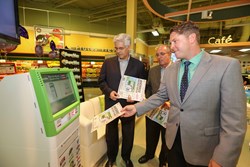 In SuperMax we're always looking for ways to help our community as well as expand services and add value. With the REMAG program we're continuing to do that along with demonstrating our environmental commitment. SuperMax president, José Revuelta
San Juan, Puerto Rico (PRWEB) August 23, 2013
REMAG, a program that rewards consumers with coupons, launched worldwide yesterday at SuperMax supermarkets in Puerto Rico. Consumers benefit when they recycle newspapers, magazines and catalogs at interactive kiosks. SuperMax will conduct a pilot of the REMAG program in 3 store locations—Plaza Guaynabo, De Diego and Isla Verde—for a period of 3 months, beginning August 22, to attend the increasing demand for recycling and counter the lack of accessible alternatives to recycle in the island.
"In SuperMax, we're always looking for ways to help our community as well as expand the services and additional value we offer in our stores. With the REMAG program, we're continuing to do just that along with demonstrating our environmental commitment, which customers have been seeing through our recent image changes such as more efficient lighting and refrigeration systems," stated SuperMax president, José Revuelta.
Recent studies have confirmed that a new trend in using coupons is on the rise in Puerto Rico. Consumers are looking for savings and REMAG attends their needs by rewarding them with instant coupons of their choice from 15 different product categories when they recycle newspapers, magazines or catalogs at one of the two designated interactive kiosks in participating stores. At the moment, there are over $120 worth of savings in more than 150 coupons available for consumers in the kiosk. Customers also contribute to support their favorite charity or non-profit organization, which will receive a donation for each printed coupon paid for by REMAG—a win-win for consumers, the local community, and the environment.
"We're thrilled to have SuperMax join us on this great venture. We're confident the program will be a success and are pleased that we can benefit local non-profit organizations with the donations they need to continue their labor of love. This is a fundamental part of REMAG`s commitment," said Blake Patterson, executive vice president for REMAG.
Puerto Rico non-profit organizations participating with REMAG include The Humane Society of Puerto Rico, SER de Puerto Rico, Estuario de la Bahía de San Juan, Hogares Teresa Toda, Sacred Heart University, Sierra Club and the G8 (eight communities around the Caño Martín Peña). These local organizations help Puerto Rico thrive through their advocacy for children, animals, the protection of natural resources, and education.
REMAG connects with consumers on three important decision-making factors:
1. Rewards in the form of cost savings through coupons from recognized brands.
2. Rewards through donations to local non-profits and charities of their choice.
3. Rewards through a quick, accessible and convenient environmental act through recycling.
The interactive customer experience is simple, engaging and fast, in four easy steps:
1. Consumers bring their newspapers, magazines or catalogs to the REMAG kiosk at their local participating retailer to recycle.
2. They scan/identify the newspaper, magazine or catalog for recycling and deposit it in the labeled slot.
3. The consumer selects the non-profit or charity to receive a monetary reward for each printed coupon.
4. Finally, the customer selects the coupons of their choice from various leading consumer products across multiple categories and leading brands for immediate use. The customer will receive up to five coupons for each recycled newspaper or magazine.
REMAG has received the support in the environmental and recycling area from organizations such as Environmental Protection Agency (EPA), Solid Waste Authority, Green America and Puerto Rico Recycling Partnership. IFCO Recycling will be responsible for handling the material.
The REMAG program also has the support of leading companies such as: B Fernández & Hnos., Clorox, Colgate/Palmolive, General Mills, Healthy Choice, Kellogg's, Kraft, Nestle, Pepsi, Procter and Gamble, Unilever and more to highlight the program and encourage engagement and participation. REMAG is a new and engaging way for brands to market and promote their products in a strategically superior location; where the customer makes the decision of what to purchase.
If you would like more information about REMAG or would like to become a green leader by actively participating in this environmentally conscious initiative please contact Blake Patterson at 615.497.9958 or email blake(at)remag(dot)org.
Fact Sheet
Advantages of the REMAG program:

It encourages greater recycling by offering rewards in the form of coupons and donations to local nonprofits.
Local non-profits and charities receive monetary rewards through program participation and coupon redemption by participants.
It highlights participating supermarkets and consumer package goods company's commitment to the environment through program participation. The REMAG kiosk will be front of store thus highlighting their efforts while building awareness of the importance of recycling for the local community.
The program will create greater loyalty to REMAG partners and will lead to increased positive associations by existing and new customers.
It offers a new fundraising strategy for local nonprofits whose connection to their local communities is vital.
The program also drives product sales through increased store traffic, discounts offered, and the desires of consumers to participate. These economic benefits will also help local communities.
The rewards offered to consumers act as triggers for consumer participation and help increase recycling rates while showcasing SuperMax's commitment to protecting the environment and providing value. The program also drives product sales through the multiple benefits to customers.
Fact Sheet
Not-for-profit Organizations
1. The Humane Society of Puerto Rico : An organization that operates a facility where stray and unwanted animals shelter for adoption and where they receive veterinary preventive health services.
2. SER de Puerto Rico: They offer therapeutic and educational services to people with disabilities including autism, their families, and communities, so they can have equal opportunities to live, be educated, work and play.
3. Estuario de la Bahía de San Juan: Founded by the Environmental Protection Agency to improve the water quality of the Bay of San Juan and the ecosystem important to the economy of Puerto Rico, and protect the coast Estuary, safeguard plants, and endangered animals that live there, and educates future generation.
4. Hogares Teresa Toda: Provide girls and adolescents aged 6 to 17 years, who are in need or distress or are suffering neglect or abuse with a permanent home where they can live surrounded by much love, maternal care, and support.
5. Sacred Heart University: The first institution of Catholic higher education in the United States that was founded to be led and staffed by lay people; SHU plays an important role in shaping today's modern, vibrant Catholic intellectual tradition.
6. G8: Is the union of the eight communities around the Caño Martín Peña. The main purpose of this organization is to protect development of the economy and maintain the communities around habitable to the people.
7. Sierra Club: The organization was created to protect and maintain all wild and natural ecosystems in the planet, so the next generation can enjoy them.