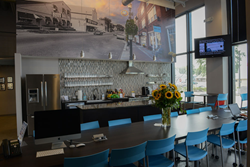 In a world full of unhappy workers, receiving these awards speaks volumes.
Indianapolis, IN (PRWEB) January 15, 2015
A business being recognized for its customer service, products, profits, leads generated, or retention rate, is nothing new. It is expected. What is not expected is a company's employees endorsing their company as being a place they love to work. It is unexpected, and almost unheard of, unless it is the RE/MAX Ability Plus office, operated by Jimmy Dulin.
For the 6th year in a row, this RE/MAX Ability Plus office has been nominated as a 'Top Workplace' by Workplace Dynamics, and has been awarded a spot as one of the 'Top Ten Best Companies to Work For' by OC Tanner. Both of these awards are based solely off of employees and the opinions they hold about their workplace. In a world full of unhappy workers, receiving these awards speaks volumes. With a company dynamic that fosters mutual appreciation, it should really come as no surprise that the aforementioned RE/MAX Ability Plus office would be the recipients of such awards.
RE/MAX Ability Plus offices, also takes great pride in recognizing their employees. They have a monthly award called the Fred Award, which recognizes the staff members that go above and beyond what is expected of them. In addition, they have another award with a philanthropic streak. The Phil Herman Award is given out annually to those who have stepped up and helped out others.
For more information concerning your buying and selling needs, please contact Jimmy Dulin at (317) 574-6647 or visit abilityplus.com
About Jimmy Dulin RE/MAX Ability Plus
Jimmy Dulin has been with RE/MAX since 1992, his certifications are as a residential specialist, a real estate consultant, a luxury home marketing specialist, a distressed property expert, and an international real estate specialist. He has received multiple awards, served on multiple real estate boards, and has had several mentions in the Indiana Business Journal, including the "Who's Who in Real Estate" article.
About the NALA
The NALA is a full-service marketing agency providing custom personalized service for small and medium businesses throughout the United States.
PR Contact
the NALA
805-650-6121 x361