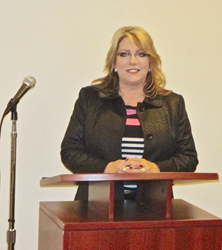 It is a shame that we have to worry about our safety while showing a potential buyer a home, but it can be a very dangerous situation without precautions.
Fishers, IN (PRWEB) March 04, 2015
The Hamilton County Division of MIBOR hosted a meeting this week, focusing on Realtor Safety and how to not be a victim. Their focus was on risk reduction strategies and basic physical defense techniques to increase awareness and avoidance skills. Kimberly Clark, a current board member and last year's Chairperson for HAMCO, was among the expert panelists to speak on this important topic. The other panelists included Deputy Josh Ireland and Merit Deputy Kija Ireland from the Hamilton County Sherriff's Department; and Legal Counselor and Realtor Advocate, Jay Rose.
Over the last ten years, Realtors have started changing the way that they do business and are looking for new strategies to make safety their main concern. Real estate professionals are easy targets for a variety of types of crime, as they are alone much of the time and typically in empty homes.
According to an article in Housing Wire on February 16, 2015, "In January, a real estate agent in California narrowly escaped being kidnapped by a registered sex offender. Last fall an Arkansas Realtor was allegedly kidnapped and murdered by a shady lifelong criminal who picked her because she was "a broker" and a "rich woman." Another Realtor last summer was kidnapped after an open house and barely escaped two men who sexually assaulted her."
"It is a shame that we have to worry about our safety while showing a potential buyer a home, but it is reality, and can be a very dangerous situation without precautions," said Kimberly. "There isn't another industry out there that suggests females and males (real estate agents) meet strangers alone in empty houses. This could be potentially disastrous and yet, many real estate agents still do. This seminar was designed to offer a strong base of safety tips and strategies to better equip our community of real estate professionals to be safe when doing what they love."
Realtor®, Kimberly Clark is with RE/MAX Ability Plus and has been working with buyers and sellers for all types of properties for over eleven years. She specializes in negotiations, luxury homes, waterfront properties, buyers and sellers alike. This last month, she had 3.5 million in sales, kicking off 2015 as RE/MAX Ability Plus' #1 agent for month of January. Kimberly consistently ranks in the top of her profession.
RE/MAX Ability Plus' office location is at 8935 Technology Drive, Fishers, IN 46037. For more information, please call Kimberly at (317) 698-8872.
About RE/MAX Ability Plus -
Kimberly Clark is a Certified Military Residential Specialist (CMRS), Physician Relocation Specialist and is currently on the board of the Hamilton Country Board of Realtors. She works with buyers and sellers, those looking to relocate, and assists first-time home buyers in Fishers, Indianapolis, Carmel, Nobelsville,  McCordsville, as well as surrounding areas.
About NALA™
The NALA is a full-service marketing agency providing custom personalized service for small and medium businesses throughout the United States.  
PR Contact: Tiffani Tendell
ttendell(at)thenala.com, 805.650.6121, ext. 361