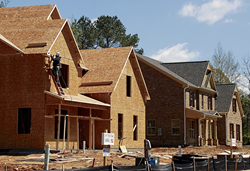 Right now, real estate is a great investment and in a short period of time should provide a huge return on your investment.
Loveland, CO (PRWEB) February 02, 2016
"The predictions are becoming reality, as around 2009, during the recession, the local economists forecasted that northern Colorado would soon be in a housing shortage," said Tracy Wilson. "Supply and demand would not meet the needs of the housing market as no new housing developments were being approved, and that is the current situation we are experiencing."
According to the Coloradoan article, the average home cost will top $610,000 and most new construction will be in attached houses such as condominiums and townhomes. Additionally, home sales throughout northern Colorado this year are only expected to grow 2 percent due to lack of inventory and shortage of new building lots that will plague the region throughout the years.
"Today we have a tremendous amount of growth in the new construction industry as seen with the high-production builders like DR Horton, Ryland Homes, Saint Aubyn and Richmond Homes new communities going up along the Front Range Corridor," said Amy Lane. "However, this production growth will soon slow down as the scarcity of dirt available for new home development is vanishing. This too was predicted several years ago."
The rising cost of new construction is devastating as builders are not able to produce affordable homes for first-time home buyers. Due to the increased cost of homes and the scarcity of land, Tracy's Team stresses this is the time for buyers to do some serious soul searching regarding the future. If you are a Baby Boomer, empty-nester or just approaching retirement within the next five years, they suggest investing in a retirement home now, rather than 3-5 years down the road.
"We have studied all the predictions from the 2016 forecasts and believe that leaning on the 'conservative' side, we can expect a minimum of a 35% increase in the cost of homes within the next 7-10 years," said Wilson. "Right now, real estate is a great investment and in a short period of time should provide a huge return on your investment, according to all the current statistics."
About Tracy Wilson and Amy Lane, RE/MAX Alliance
Tracy Wilson, who works with both buyers and sellers, believes in the "Team Concept" approach to her work, a top-producing team that stays on the cutting edge of technology and constantly continues their real estate education. In addition to working with buyers and sellers, Amy Lane has been a longtime leader on Tracy's Team, handling all of their marketing and website programs. For more information, please call (970) 567-0816, or follow them on Facebook. The office is located at 750 W. Eisenhower Blvd., Loveland, CO 80537.
About the NALA™
The NALA offers local business owners new online advertising & small business marketing tools, great business benefits, education and money-saving programs, as well as a charity program. For media inquiries, please call 805.650.6121, ext. 361.