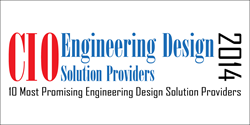 We're proud to be recognized for innovation as well as our responsiveness to the specific needs of our customers, since this is at the heart of our mission statement.
State College, PA (PRWEB) April 22, 2014
Remcom announces that it has been recognized by CIO Review magazine as a Top 10 Most Promising Engineering Design Solution Provider for 2014. The annual listing recognizes companies that are at the forefront of tackling engineering design challenges with cutting-edge strategy and solutions. Remcom has provided electromagnetic simulation software for design engineers and EM professionals for 20 years.
CIO Review explained that the increasing demand for superior quality and advanced technology in consumer products, along with growing intricacy of engineering projects, have created a need for tools that enable engineers to virtually see a design, analyze it, and make necessary corrections. Additionally, CAD and CAM programs are becoming more customizable in order to meet engineers' specific needs and help organizations become more competitive. Pradeep Shankar, CIO Review's editor-in-chief, further explained, "In our selection we looked at the vendor's capability to fulfill the needs of the engineering design sector through offering state-of-the-art CAD/CAM solutions that enable engineers to deliver projects which are stronger, better and more efficient."
Scott Langdon, Remcom's president and CTO, said, "We're proud to be recognized for innovation as well as our responsiveness to the specific needs of our customers, since this is at the heart of our mission statement. Our core strategy is to maintain close connections with customers to understand their needs, and we stay on the cutting edge of electromagnetic research and HPC [high performance computing] technology to provide the solutions that best meet those needs. New features and developments are linked directly to customer demand."
Remcom's profile on the CIO Review website contains full details and a summary of the company's products, applications, clients, and strategy. Complete information on this year's "10 Most Promising Engineering Design Solution Providers" and additional company profiles can also be found on the CIO Review website.
About Remcom: Remcom provides innovative electromagnetic simulation software and consulting services. XFdtd, the company's full wave 3D EM solver, simplifies the analysis of complex EM problems and leads the market in FDTD-based modeling and simulation. Remcom's products are used for antenna design, bio-EM effects, MRI, microwave circuits, RFID, military and defense applications, EMC/EMI, and more. Remcom is committed to its customers' unique needs, offering flexible licensing options for installations of all sizes as well as custom engineered solutions.
About CIO Review: CIO Review is a technology magazine that talks about the enterprise solutions that can redefine the business goals of enterprises tomorrow. It is the leading source that shares innovative enterprise solutions developed by established solutions providers, upcoming hot enterprises and is a neutral source for technology decision makers. Published from Fremont, California, CIO Review is an excellent platform for the enterprise to showcase their innovative solutions.