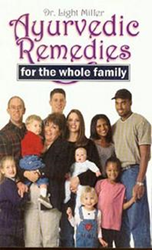 Bogota, Colombia (PRWEB) February 27, 2014
Ayurmed has recently announced that it has published "Remedios ayurvedicos para toda la familia" published in Spanish and available in Spain and Latin America. The book will be available via Amazon or directly through the publisher at http://www.Ayurmed.org.
Ayurvedic Remedies for the Whole Family is a resource book of universal value for anyone on the journey to self-healing. Light Miller presents enlightened approaches for each stage in the span of human life: pregnancy, birth, childhood, teen years, young adulthood, and the maturing years. Light details a variety of common sense, natural, and alternative therapies easily available to everyone. A special section details seventy-five common illnesses with a complete list of specific diets, herbs, vitamins, minerals, homeopathics, and essential oils as well as therapies for each condition's healing.
Light Miller, ND., DD. received her B.S. in Social Science from UC Berkeley, became a Certified Massage Therapist at the LA School of Massage in 1967 and has since acquired over 32 years experience as a health practitioner.
In addition to providing individual health counseling and teaching seminars, Light has trained and certified over 500 massage therapists. She is currently the only woman out of the 18 practitioners of Kaya Kalpa in the world. Kaya Kalpa is a branch of Ayurvedic Mystical Medicine, the oldest recorded healing art.
Light has been ordained as a minister since 1983, her vision and her ministry is based on bringing awareness of health and spirituality to everyone that crosses her path. She teaches meditation, self development courses and helps people to find their passion and purpose in life. She received her Dr. of divinity and has followed her mission ever since.
Ayurmed is also the publisher in Spanish of "Ayurveda y la mente" by Dr. David Frawley (Ayurveda and the mind) and Dr. Marc Halpern ¿Cómo sanar su vida? (Healing your life).
Ayurveda is "The Science of Life". It is the healing science from India and has been practiced for over 5,000 years by millions of individuals to assist the body in journeying back to optimal health. Ayurveda views health and disease as the end result of how we interact with the world, in terms of our beliefs, perceptions, thoughts, and feelings, which then ultimately determine our actions. Actions in harmony with our inner nature create health, while those dis-harmonious with our inner nature create disease. Please visit http://www.ayurmed.org.