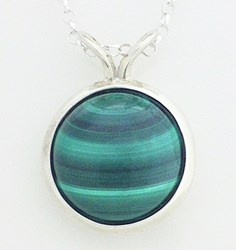 Time-inspired, infinitely unified, eternally treasured.
(PRWEB) December 19, 2013
Lance Heard, a much celebrated artisan of fine, handcrafted jewelry, has just released his unique line of healing Remembrance Pendants and is expanding his client-base to include the international community. He aspires to share both the beauty and the dynamic healing properties of his individually hewn fine stone and precious metal overlay pieces worldwide.
The overlay itself is composed of three parts: the front housing the stone-of-choice, which enhances certain personal qualities through ancient interpretations, the precious metal encasing it and the rose-quartz backing. Each client may choose to have the enclosure customized to contain a small item – such as the cremated remains belonging to the cherished and departed or a lock of hair of one's deeply beloved – or not, with the piece holding only eternal space and time.
The stone choice is intended to elicit a particular emotion that is both true to the nature of the holder and to the qualities that it is traditionally believed to hold. The rose quartz is said to relay love from the transfused contents of the entire pendant, serving as a type of bridged connection between the two. Mr. Heard infuses each pendant with his unique, intuitive sense of oneness to enhance the powerful conductive properties of each triple-layered adornment. The pendants are stunning works of art and are as well-received as his numerous other beautiful jewelry designs.
By melding his authentic Shaman curative techniques with the natural healing properties and energy held by various stones, this particular line of jeweled pendants is designed specifically to stimulate the same intuitive sense of oneness and peace within that he contemplates and experiences daily in others bearing his work.
Lance Heard channels his own energy and worldly wisdom into each of his creations to enhance the therapeutic values of its components into unique pieces that are as exquisite as they are inspiring. This particular line of Lance Heard archetypes – Remembrance Pendants – is designed to convey that healing power upon the piece's owner, bestowing that sustaining sense of oneness. The pendant's tangibility is intended to provide its holder with a sensation of comfort and tranquility.
Lance Heard's exceedingly intuitive temperament was well established in his early childhood. He has always been copiously perceptive and sensitive, not only to others but, also, to the surrounding universal nature of the world. His sense of cohesion was nurtured and developed further under the tutelage of world-renowned Master Hopi Artist, Michael Kabotie, who taught Mr. Heard the ancient fine art of Hopi overlay that traditionally symbolizes balance and harmony; the innate oneness that is imparted between us and our earth.
Mr. Heard says, "My spiritual teachings and jewelry artisanship come straight from my heart. Every piece I make is created with the intention of bringing an abundance of oneness, love, peace, joy and compassion to the world." While his skill and artistry has attracted numerous prominent figures, each of his clients equally praises his work. His protective Arch Angel Healing Light pendant is particularly popular, which is among many of his famous pieces that will soon be available for resale. He will also tailor any piece to meet individual requests.
Lance Heard's Remembrance Pendants can be located at his new website, http://www.remembrancependants.com.