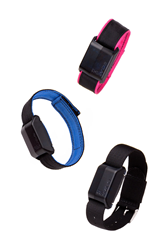 "This clinical pilot study netted some very exciting findings about RE-vibe that far exceeded our expectations".
Wake Forest, NC (PRWEB) April 04, 2017
FokusLabs Behavioral Solutions, the manufacturer of RE-vibe Anti-Distraction Wristbands, announced today they have released a summary of the clinical pilot study that helped initiate RE-vibe's launch to market. FokusLabs prides itself on supporting students with unique learning needs, including those with ADHD and those on the autism spectrum. This case study is part of an ongoing effort to study RE-vibe's effects in the classroom, with additional studies slated for the near future.
RE-vibe™ is a reminder vibration wristband designed by a school psychologist to help students maintain self-awareness so they may redirect themselves when they drift off-task. RE-vibe utilizes proprietary research-based algorithms to determine when to send reminder vibrations. The overall goal of RE-vibe™ is to empower children with a quiet vibration reminder to get back to work so they do not have to rely on teachers or parents for prompts.
The study was conducted with children in grades 3-8 across two North Carolina school buildings. A classroom provided a much more realistic setting, including typical distractions occurring at random, than a traditionally controlled laboratory setting. It was found in this particular three month pilot study that 83% of students with self-regulation deficits at baseline showed improvement in on-task behavior while wearing RE-vibe (average increase of 19% over baseline). A very high performing subgroup was also identified, comprised of about half of the evaluable students; this subgroup demonstrated an average increase of 38% in on-task behavior over baseline while utilizing RE-vibe.
"This clinical pilot study netted some very exciting findings about RE-vibe that far exceeded our expectations", said FokusLabs founder and RE-vibe creator Rich Brancaccio. He added, "We were truly amazed by the way some kids positively responded to wearing RE-vibe in a real world environment. It meant a lot to us learn how impactful our technology could be on their learning each day." Brancaccio has spent the majority of his career working as a school psychologist specializing in autism spectrum disorders, serving on several school district autism evaluation teams.
FokusLabs has been producing RE-vibe since January of 2016. The company revealed that RE-vibe is already in use in over 2,000 schools across all 50 states.
To learn more about FokusLabs, RE-vibe, or the Study, contact Lara Hill at 919-622-4996, or by email, lara [at] fokuslabs.com. RE-vibe is available for purchase at http://shop.fokuslabs.com and Amazon.com.
About FokusLabs, Inc.
FokusLabs, Inc. is a North Carolina based company dedicated to helping children and adults overcome obstacles faced in the classroom and workplace by fusing psychology with technology. Its introductory offering is the RE-vibe, an algorithm-based reminder vibration wristband that helps remind users to stay on-task in classrooms, at home, or in office settings.
Media Contact:
Lara Hill, Marketing Director, lara [at] fokuslabs.com