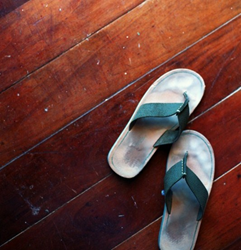 Knowing how to fix the scuffs and scratches on your hardwood floor will keep it in good, beautiful condition for years.
Everett, WA (PRWEB) August 09, 2014
Thanks to an article from Remnant King Carpets, homeowners and DIY-ers can learn how to flawlessly fix scratches and scuffs on their hardwood floors.
"Hardwood floors are a lovely, warm flooring option that brings richness, style, and polished sophistication to your home," says Remnant King Carpets.
"However," they continue, "There are times when dropped items, rough shoes, pet's claws, or the kids' horse play can scratch or dent your floors. Thankfully, most of these scratches can be easily fixed or disguised until the next time the floor is refinished."
The article takes homeowners through a three step process to rectifying the mark, starting with assessing how deep the scratch is. Hardwood boards that have been gouged deeply may need to be removed to be repaired, or may require the services of a professional.
To learn more about Remnant King Carpets flooring inventory and services, follow this link to their website: http://remnantkingcarpet.com/.
Their article then requires the homeowner to clean the area, before beginning step three, which is to recolor and refinish the scuffed area. Various forms of recoloring are suggested, depending upon both the color and the depth of the scrape. Most scrapes and scuffs are easily touched up with a bit of extra stain left from the original coloring of the boards, but homeowners that don't have access to this will have to improvise or have the color of their boards matched to another stain.
"Hardwood floor scratches make for an easy fix for a motivated DIY-er," Remnant King Carpets says, "But remember that when problems are more deep than merely a scrape, it may be wise to call in the professionals to help you out. Hardwood floors are expensive, and keeping them in top-notch condition should be a priority in your home!"
About Remnant King Carpets:
Remnant King Carpets is a family owned business that has been operating since 1986. They are committed to fitting all home decór needs with quality flooring options. Visit their website for more information:http://www.remnantkingcarpets.com/.
Seattle:
800 N.W. 65th Street
Seattle WA 98117
888-615-8014