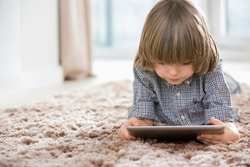 Look at our checklist of pros and cons to see what flooring option best suits your and your home.
Everett, WA (PRWEB) August 26, 2014
Homeowners struggling to choose between hardwood floors with rugs or a fully carpeted home can find a valuable source of information in the latest article from Remnant King Carpets. Their article explains the differences and considerations that should be thought about when homeowners are determining what type of flooring to include in their home.
The article provides full lists of pros and cons for each soft flooring option. Carpets, for example, are noted for their slip and trip resistant qualities, as they are secured to the floorboards, and thus make it a good choice in homes of the elderly. Carpets are also able to provide continuity of color and style throughout the home.
Rugs, on the other hand, are easily washed and resistant to mold and mildew accumulation. Additionally, the article reminds us that area rugs allow homeowners to quickly and cheaply switch the color scheme of any room in the house without a hassle.
To learn more about Remnant King Carpets' inventory, click here.
Remnant King Carpets suggests going through their lists of pros and cons and check items off as you go. If a homeowner finds that they circle more pros than cons for a specific flooring option, that option will probably be the better fit for them.
"The choice between area rugs and carpeting can be a difficult one to make at times," Remnant King Carpets acknowledges. They invite homeowners with any questions or concerns to call them; "We can help you decide which option is the best for you and your household. We strive to provide excellent and low-priced options for both carpeting and rugs, making our inventory a perfect fit for any home."
About Remnant King Carpets:
Remnant King Carpets is a family owned business that has been operating since 1986. They are committed to fitting all home decór needs with quality flooring options. Visit their website for more information:http://www.remnantkingcarpets.com/.
Seattle:
800 N.W. 65th Street
Seattle WA 98117
888-615-8014