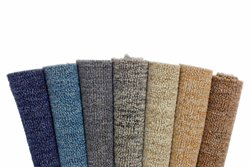 Carpet remnants come in a wide variety of colors, styles, and sizes.
Kirkland, WA (PRWEB) May 15, 2015
Most people don't know a remnant of carpet is, much less how it can be useful and beneficial to them in their quest for carpet flooring or area rug. In their latest article, Remnant King Carpets gives a full rundown of what carpet remnants are and how buyers can brighten and change up their home atmosphere without having to empty their wallet.
Remnant King Carpet states, "If you're looking to re-carpet a room or create a new area rug, but don't really have that much money to spend on new carpet, than a carpet remnant might be just what you need."
Carpet remnants are the large or small pieces of carpet left after a majority of the carpet roll has been used up. These remaining sections are then wrapped up and sold at a discount. The article states that, "Carpet remnants are often great quality and come in a variety of sizes, colors, and styles."
Because of the flexibility between remnant sizes, remnants can be used to complete a multitude of household projects. Small rooms can be fully recarpeted at a price that otherwise would cost significantly more, and with the variety of carpet remnants available, can be done in any number of styles.
To help buyers save money on great remnant deals and get the carpet they are looking for, Remnant King Carpet keeps a wide selection of remnants and carpets for buyers throughout Seattle, Kirkland, and Everett to choose from. For more information about their services, visit their website at http://www.remnantkingcarpet.com/carpets/.
About Remnant King Carpets:
Remnant King Carpets is a family owned business that has been operating since 1986. They are committed to fitting all home decór needs with quality flooring options. Visit their website for more information:http://www.remnantkingcarpets.com/.
Seattle:
800 N.W. 65th Street
Seattle WA 98117
888-615-8014