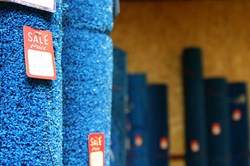 By saving carpet remnants, one can easily make repairs to minor blemishes.
Seattle, WA (PRWEB) August 19, 2013
A newly published article from Remnant King Carpets explains the logic and common-sense mindset behind buying and saving extra pieces of carpeting. This simple procedure is making do-it-yourself homemaking easier than ever for multiple reasons.
By saving carpet remnants, one can easily make repairs to minor blemishes. When juice or wine spills, or when something is dragged across the carpet that damages a portion, on-hand carpet remnants are the solution to the problem. The article explains how companies offer such pieces of carpet specifically for this purpose, and how money can be saved in the long run.
To conclude the article, a final paragraph gives a word of advice to anyone installing brand new carpets: Save the extra pieces that are left from cutting during installation. Simple solutions like these are the things that save homemakers money and time.
About Remnant King Carpets:
Remnant King Carpets is family owned and operated and have been since 1986. They carry a complete line of flooring & carpet in Seattle, Everett, and surrounding areas. Their flooring and carpets come from all the major manufacturers and meet flooring needs no matter what they are. They have flooring for the largest of homes to commercial jobs to the smaller areas of carpeting or even vinyl remnant. All this is provided in a fun, friendly atmosphere. For more information, visit http://www.remnantkingcarpets.com.