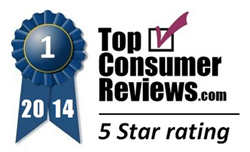 Unlike other treatments, Wart Control is an all-natural, safe, and painless option to eliminate the appearance of embarrassing warts... We're excited to be recognized by TopConsumerReviews.com
Overland Park, KS (PRWEB) May 14, 2014
TopConsumerReviews.com recently awarded their highest five-star rating to Wart Control, a leader in Wart removal products.
"We're pleased to receive TopConsumerReviews.com's highest rating," said Michael Walls, Director of Operations at Forces of Nature. "Millions of people are afflicted with embarrassing warts each year. Unlike other treatments, Wart Control is an all-natural, safe, and painless option to eliminate the appearance of embarrassing warts. Our product is also FDA registered, non-toxic and doctor recommended for the treatment of warts. We're excited to be recognized by TopConsumerReviews.com."
Warts develop from an infection in the skin that originates from a virus. There are over 100 different viruses that can cause warts, and most individuals will contract at least one in their life time. These viruses are found just about anywhere in public and are often contracted on the hands, which is where most warts develop. Eliminating warts has typically involved freezing or burning them off at a doctor's office. Those that have had several warts in the past can attest that the process can be both painful and expensive. Today, a number of alternative treatments exist that use all-natural ingredients to eliminate the appearance of warts safely and effectively. But finding the right product is key to the success of erasing unsightly and embarrassing warts.
"Wart Control improves the appearance of warts without the expense and hassle of going to the doctor's office," explained Brian Dolezal, of TopConsumerReviews.com. "Forces of Nature uses only 100% certified organic plant extracts and botanicals in their products, which means you're getting the most potent yet safe ingredients in Wart Control. We also liked that Wart Control is designed to penetrate deep into the root of each wart for best results and won't leave a scar in the process. Satisfied customers, an outstanding 1 year money-back return policy, and affordable pricing pushed this product to the top of our list of Wart removal options."
To find out more about Wart Control and other Wart solutions, including reviews and comparison rankings, please visit the Warts category of TopConsumerReviews.com at http://www.topconsumerreviews.com/warts/.
About Forces of Nature
Forces of Nature offers a revolutionary new family of ultra-pure natural medicines that are both FDA registered and USDA certified organic --the only pharmaceutical company to offer products in this class. Its patent pending formulas are used by satisfied customers around the world because they are fast-acting, safe, and deliver effective results.
About TopConsumerReviews.com
TopConsumerReviews.com is a leading provider of independent reviews and rankings of hundreds of consumer products and services. From wart removers to cellulite products and scar creams, TopConsumerReviews.com delivers in-depth product evaluations in order to make purchasing decisions easier.