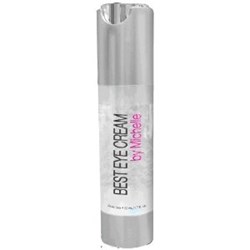 Our clients have been blown away by the fast results our Eye Cream has provided.
Adel, IA (PRWEB) September 12, 2013
Men and women, fed up with seeing wrinkles or fine lines staring back at them whenever they peer into a mirror, are getting the lasting relief and improvement they want with M&M Beauty and Wellness' Best Eye Cream.
Best Eye Cream is specially formulated with peptides and botanicals to diminish dark circles, wrinkles, creases and crow's feet. This amazing gel also firms and tightens the skin. Further, it works great as a makeup primer under foundation, to smooth skin for a more even complexion.
Men and women who apply it morning and night after cleansing can look forward to a rapid and dramatic reduction in wrinkles, dark circles under eyes, bags under eyes, and fine lines and wrinkles. The eyes are the first to cry out for attention given lack of sleep, stress, not eating right, and exposure to environmental elements like pollution, dryness, heat and cold. Best Eye Cream users experience a feeling of refreshed hydration around the eye area that they likely haven't enjoyed in years -- possibly even decades.
"We created this product with the goal of creating a little facial magic. 10000 customers later, we are still creating that magic. 10000 customers can't be wrong," said Matt Lambi with M&M Beauty and Wellness. "And a significant number of those 10000 customers are repeat customers. Best Eye Cream has exceeded our wildest expectations. We only wish everyone would try it and see for themselves. Best Eye Cream sells for $32 but works like it costs a lot more."
Best Eye Cream, innovative skin care solution formulated with peptides and botanicals to dramatically diminish the signs of stress and aging in the delicate eye area, is available from Amazon.com at http://www.amazon.com/Best-Eye-Cream/dp/B005Q06WBU.
For a limited time, new customers can save an additional 20% with the coupon code of EYES20KK. All purchases are also eligible for Amazon.com's no-cost "Super Saver" shipping option.
About M&M Beauty and Wellness, LLC
Headquartered in Iowa, M&M Beauty and Wellness, LLC delivers solutions that support health and well being. All of the company's products are manufactured exclusively in US-based, FDA certified, and inspected facilities.