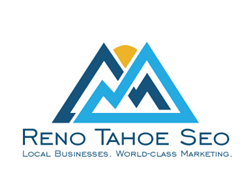 We give local businesses world-class marketing.
Reno, Nevada (PRWEB) August 13, 2016
Reno Tahoe SEO is a new digital marketing firm that launched its new office in Reno on August 8, 2016. Check out the website at http://renotahoeseo.com. The goal is to help local businesses grow using the most trafficked websites in the world. There is a huge disconnect with advertising for local businesses and customers. What used to work before has quickly become outdated and ineffective. Reno Tahoe SEO helps generate traffic and exposure for businesses.
Reno Tahoe SEO works with any business that wants to go faster and farther than they've been able to before. It is essential to find the right marketing firm for a local business. Some things to look at when hiring a search engine marketer is their previous experience, how ethical their methods are, and most importantly, how effectively their strategies work. Current service areas include Reno, Sparks, Carson City, and the Tahoe area. By bringing affordable, effective, and streamline local internet marketing, businesses can benefit directly by working with Reno Tahoe SEO. A successful local search marketing campaign creates goodwill for everyone involved whether it's the business, or their customer.
Over the next few months, Reno Tahoe SEO will be doing seminars on local internet marketing. These seminars will include creating optimized social media accounts, creating location relevance, and generating organic search traffic. Helping local businesses in achieving a greater web presence and visibility is essential as it helps families across the country and drive the economy.
Stay tuned for more news and events coming up. Reno Tahoe SEO gives local businesses world-class marketing.