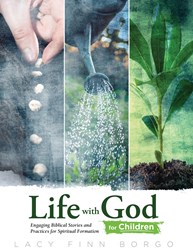 Life with God for Children is a flexible curriculum that can be used with single or multiple age levels.
Denver, CO (PRWEB) January 22, 2014
Renovaré has released Life with God for Children, a Sunday school curriculum that encourages children to engage in Christianity's classic spiritual disciplines. The curriculum features the writing of Lacy Finn Borgo, Renovaré's volunteer Director of Children and Families Ministry.
Executive Director Rachel Quan believes the curriculum will be a valuable resource for instructing children in how to live out their faith. While many curricula teach children prayer, Bible stories, or how to behave, this is the first to intentionally guide young ones through all of the spiritual disciplines.
Quan says, "Jesus was very direct about children and their relationships with him. Since he called children to come to him, it is vital for us as a ministry to introduce our children to the disciplines that have drawn Christians closer to Jesus for two millennia."
"It is very important to help our children relate to Jesus on their own—to consciously live with him," says Borgo. "We don't want Sunday School to be a completely separate compartment of their lives. Children need to understand, just as adults need to, that God is with them in every aspect of their lives."
Life with God for Children is a flexible curriculum that can be used with single or multiple age levels, ranging from preschool to upper elementary grades. Borgo has utilized her teaching experience to write age appropriate lessons without sacrificing the content needed to effectively communicate the truth. The preschool and kindergarten package also contains lovely artwork by Jeanette Fernandez. Borgo states, "Jeanette's art is spectacular. She works in a way that communicates to children."
In addition to the books, Life with God for Children also teaches through music. Brian Hindman's Do Life with Me CD and songbook contain music specifically crafted to reinforce each lesson. Giving children the opportunity to learn through multiple sources greatly increases their ability to retain what they have learned.
Life with God for Children is available now! You can purchase this ground-breaking curriculum as a complete sector year by year. For further details, including how to order Life with God for Children, visit the Renovaré store by clicking this link.
Renovaré is a nonprofit Christian organization headquartered in Englewood, Colorado, and active worldwide. The ministry seeks to resource, fuel, model, and advocate more intentional living and Spiritual Formation among Christians and those wanting a deeper connection with God. A foundational presence in the Spiritual Formation movement for over 20 years, Renovaré is Christian in commitment, ecumenical in breadth, and international in scope. Renovaré was founded in 1988 by Celebration of Discipline author Richard J. Foster. To schedule an interview with Executive Director Rachel Quan, please call Joan Skulley at 303.792.0152 or e-mail her at joan(at)renovare(dot)org.