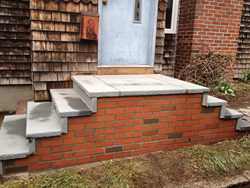 Let's Reinvent Your Home
Boston, Massachusetts (PRWEB) August 06, 2014
Jurado Construction is an innovative construction firm specializing in exterior renovation and interior remodels. They deliver transformative projects guided by their client's vision. They will work with each client to restore their home, preserving antiquity and modernizing with elegance.
Jurado Construction's new website (http://juradoconstruction.com) provides great information on the various renovation contractor services offered, design ideas, as well as several photo galleries depicting project before & after appearance.
Testimonials
"We first used Jurado Construction more than five years ago to repair our slate front stairs. These stairs had been a problem for a long time, and we weren't happy with work done in the past by two other masons. John was extremely professional from the first time we met him. He told us very clearly what he thought needed to be done, giving us a clear recommendation, but also suggesting some alternatives if we needed a less costly approach. He was a pleasure to work with throughout the process--always easy to get hold of, very good at explaining the details of the work, and completely committed to customer satisfaction.
"Since then, we've used Jurado Construction renovation contractors (http://juradoconstruction.com) for several other jobs, some of them pretty large such as rebuilding a retaining wall that runs the length of our driveway. In each case, John and his team have been extremely thorough, totally reliable, and extremely professional. The work has been of the highest quality in each instance, and has held up extremely well.
"It's a pleasure to have a construction firm we can rely on with absolute confidence. We recommend Jurado Construction enthusiastically."

Brookline, MA
About Jurado Construction:
We have been in business for 10 years. We have been on the web for 5 years, but recently launched our new website. We provide free estimates and site walks, and can quote your project within 24-48 hours. Our priority is the customers' satisfaction. All of our 1st time clients become repeat clients and rely on us for all of their home renovation needs. We are a contractor that you can trust. We deliver projects on time and on budget.
Jurado Construction
Contact: Juan Jurado
Telephone: (617) 792-6999
Email: juan(at)juradoconstruction(dot)com
Website: http://juradoconstruction.com