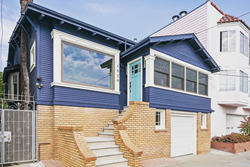 My company helps sellers that are equity-rich but don't have means to renovate by modernizing their home and making them more appealing to today's buyers.
San Francisco, CA (PRWEB) September 21, 2017
Recently, Renovation Design Realty and their investors undertook sizeable renovation projects throughout the Bay Area, some of which will soon come to an official close. One of the latest projects includes a close-to $300,000 remodel of a Sai Baba Worship Center in the Rollingwood area of San Bruno. On this property, Renovation Design Realty did a facelift on this outdated property by adding a new master suite and media room on the lower level, hardwood floors throughout, a completely remodeled kitchen and bathrooms, fresh paint inside and out, as well as a deck that overlooks the backyard, which is newly-landscaped with a beautiful garden and fruit trees.
"As a Realtor in the San Francisco Bay Area, my job is not just to list homes and sell them at market value. My company helps sellers that are equity-rich but don't have means to renovate by modernizing their home and making them more appealing to today's buyers," said Fiona Santos, a top-producing Realtor for Renovation Design Realty with extensive knowledge on the Bay Area housing market. She also added, "Whether a property needs simple updating to extensive renovations, such as adding rooms or knocking down and building new walls, we manage the entire project from start to finish so that the home sellers don't have to worry about anything other than when to collect that check." In line with Renovation Design Realty's values, Santos is a tech-savvy professional who markets and beautifies properties as a Certified Home Listing Consultant.
Another recent Renovation Design Realty project included a $30,000 budget for a 1929 Tudor home in North Hayward. The listing's kitchen was renovated with a moving island, new soft-close maple cabinets, stainless steel appliances and countertops, as well as laminated hardwood floors. Fresh paint, a water heater, and brand new carpets were also added to the space. The company also just wrapped up a renovation in the Bayview district of San Francisco, CA. The craftsman-style home boasts original moldings, trims, built-ins, hardwood floors and a fireplace.
To see these recently renovated listings and more, visit: https://www.facebook.com/RealEstatebyFiona/
About Fiona Santos, Renovation Design Realty
Fiona Santos is a top-producing Realtor who averages $12 million worth of properties in the San Francisco Bay Area each year. She also educates and helps individuals, couples and families into their first homes or investment properties as well as people who are relocating. For more information, please call (415) 513-8876, or visit http://www.fionasellshomes.com.
About the NALA™
The NALA offers small and medium-sized businesses effective ways to reach customers through new media. As a single-agency source, the NALA helps businesses flourish in their local community. The NALA's mission is to promote a business' relevant and newsworthy events and achievements, both online and through traditional media. The information and content in this article are not in conjunction with the views of the NALA. For media inquiries, please call 805.650.6121, ext. 361.