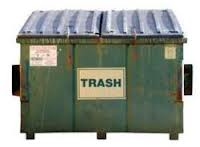 Renting a dumpster can be hard on a person who has little experience with the process due to the differences in company fees and regulations in some cities for rentals
Miami, Florida (PRWEB) December 03, 2013
The needs of consumers and business owners for trash removal are now being met by a new resource by the City Dumpster Service company. This company has launched its website to allow easier methods to rent a dumpster online at http://citydumpsterservice.com.
The rental solutions that this company is providing to residents in the U.S. have been expanded over the past 12 months. All states are now represented in the hauler network that has been expanded by this company in 2013.
The launch of the new website is designed to bring easier access for renting a dumpster of any size without the usual delays in quotes processing. A dedicated phone line is now offered at 1-800-748-9909 as well as new online solutions for renters.
"Renting a dumpster can be hard on a person who has little experience with the process due to the differences in company fees and regulations in some cities for rentals," said a source at the CityDumpsterService.com company.
The new partners that have joined the hauler network created by the City Dumpster Service have increased the types of dumpsters that are available for rent. The roll off, front load, hook load and other containers that are used in trash removal are now instantly quoted by company staff.
"The toll-free phone number we've opened up for national use connects callers to our in-house specialists who quote pricing and answer questions about pickup or delivery," the source included.
The City Dumpster Service website is scheduled to be updated with state specific rental information as new content is supplied on a weekly basis online. This is expected to be one method used to educate the public when renting a dumpster with little knowledge of how the industry works.
About CityDumpsterService.com
The CityDumpsterService.com company provides resources for homeowners, business owners, entrepreneurs and other property owners to help rent dumpsters and other containers for trash. This company specializes in networking thousands of haulers in the U.S. to the public through its computerized system online. The CityDumpsterService.com company website provides informative articles and other solutions for the public to review when researching the trash removal industry online. The quotes that are distributed by this company can be accessed online or by calling the installed telephone number provided.