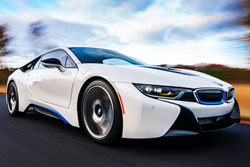 Las Vegas, Nevada (PRWEB) August 25, 2015
It's official: Diplomat Exotic Car Rentals is now the first and only car rental company in Las Vegas to carry the BMW i8. The super car is a hybrid that is virtually at par with the 458 Ferrari and is currently leading the forefront of hybrid technology.
As far as rental cars go, Diplomat Rentals already has one of the most complete and diverse car models within the Sin City. The company's acquisition of the BMW i8 is a feat that none of the other providers have succeeded in. Touted by the giant German-based manufacturer as the 'most progressive sports car', the model is indubitably a welcome addition of the growing roster of modern yet sustainable luxury sports cars. Individuals who are looking to enjoy a wild and unforgettable night in Vegas can expect to find this hybrid's low consumption and emission numbers as appealing as its form.
Besides the BMW i8, Diplomat Rental has an extensive line of other highly-rated cars for rent in Vegas. The business has some of the most cost-effective rental fees in the city. For instance, you can ride a Rolls Royce Ghost that's worth $350,000 for 24 hours for just $1599. The business also has a complete collection of "true" sports cars for automobile aficionados, with very competitive rental fees for the Ferrari 458 Italia, McLaren MP4-12C, and Lamborghini Gallardo.
Meanwhile, for only $550, customers can rent out Mercedes-Benz luxury cars or Chevrolet Corvettes. Diplomat Rentals also offers $100,000-SUVs, like the Land Rover Range Rover, as well as models from Porsche, Maserati, Audi, Aston Martin, Bentley, and a lot more. Whether you prefer the modern and sophisticated BMW i8, or some other car model, Diplomat Rentals can be of tremendous assistance.