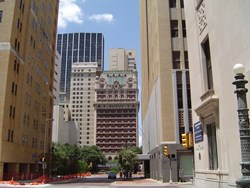 Investment companies are the 21st century realtors.
Dallas, TX (PRWEB) August 19, 2013
Giving back to the community that provided support during war and peace is the concept for two real estate professionals at the B&J Holdings, LLC company. This military-owned company is now offering its rent to own Dallas, TX homes as profiled in a news report by the RealEstateNewsWire.com company at http://realestatenewswire.com/rent-to-own-dallas-tx-homes.
Owners Ross Pennington and Josh Studer have now expanded the options for men and women seeking rental homes in the DFW area. These former military specialists are now helping to place renters or investors into single family homes at or below market rates.
The Dallas area has increased its economic worth in recent years and finding homes that are rentable is more challenging for some individuals.
Several programs are now in place by the B&J Holdings, LLC company to help applicants of all credit levels get expedited approval for available homes at http://reibluebook.com.
"Investment companies are the 21st century realtors," said a spokesman for the RealEstateNewsWire.com company.
These companies when combined nationwide are responsible for helping more people enter into a home purchase or lease agreement compared with the standard way of using realtors that could disqualify applicants based on credit or other housing requirements.
The growing investment portfolio that is held by the B&J Holdings, LLC company is a direct result of expert real estate transactions completed in the Dallas and Jacksonville, FL markets.
A person seeking a property or one to invest into regardless of credit scores is expected to benefit from the housing portfolio now marketed by this company.
About B&J Holdings, LLC
The B&J Holdings, LLC company is a dynamic, privately held Fort Worth based company with activities in real estate investment specializing in single family residential homes. The company principals have completed multiple real estate transactions in both the Fort Worth, Texas and the Jacksonville, Florida market. The company primary focus is on single family residential homes, buying distressed properties, fixing these homes and reselling to the public. The founders of the B&J Holdings, LLC company are military veterans who have served their country during war and peace and now seek to serve those in need of finding the right home at the right price.
About RealEstateNewsWire.com
The RealEstateNewsWire.com company provides immediate housing information and industry news from its website online. This company uses a team of editors, researchers and writers to find trending topics, companies and other sources of information in the real estate community. The company data is now syndicated daily through a network of media partners online.