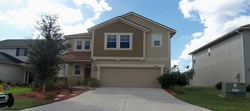 Renting homes remains one affordable option for a person without the cash or financing to purchase a home.
Miami, Florida (PRWEB) October 28, 2013
Renting homes remains one method of obtaining housing for many people in the state of Florida. The real estate and economic slowdown in this state has opened up the rental opportunities for many people. The Lucnar Properties company is now providing rent to own homes in Miami, FL to renters at http://lucnarproperties.com. The Real Estate News Wire company is the first to report this information to consumers online.
The rental industry has expanded partly due to the difficulties that some men and women can experience during the housing acquisition process. A person with a lower than average credit score or with a past bankruptcy could find it difficult to find financing for a new home purchase.
The Lucnar Properties company has expanded its housing solutions in Florida to help the public find housing without fear of credit denials. This company is offering its immediate rental services as one part of its new services that are available. A detailed overview of the new services are now posted on the company website.
"Renting homes remains one affordable option for a person without the cash or financing to purchase a home," a source from the RealEstateNewsWire.com company said.
The Lucnar Properties company website now features all of the homes that are available in the Miami area online. These listings of homes include the purchase price, monthly rent and other information essential to assisting renters with helpful information when selecting a property. Online applications are now accepted for all housing requests made to this company.
"The services that are now available online are shortening the research that consumers complete when searching for housing," the source added. The acceptance of online applications is one way expected to reduce any waiting time for approval for the homes now for rent.
The http://realestatenewswire.com company is extending its review period of the Lucnar Properties company to continue monitoring its services to the public this year. The company reviews and reports that are published online are updated on a continued basis by the company housing staff.
About Lucnar Properties
The Lucnar Properties company currently purchases homes in the state of Florida and offers these at under market value to the public. The properties now for sale by this company are entered on the company website and all pricing details can be reviewed by potential buyers online.
About RealEstateNewsWire.com
The RealEstateNewsWire.com company provides syndicated housing data to consumers, investors and owners of properties in all parts of the United States. The content that is published daily by this company is a mixture of services, news and other newsworthy information that is offered to help the public.