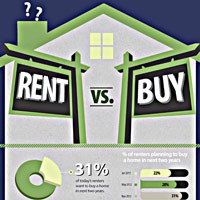 "78% of home owners say their home was the best investment they've ever made for 3 reasons: 1. Control 2. Safety & 3. Investment."
New York, NY (PRWEB) August 02, 2013
The Rent Vs Buy infographic represents the latest market studies, research, surveys and polls to show what current and potential home owners/renters are saying about the buying vs renting debate. Elika Real-Estate pooled this data from the most recognized authorities in the industry like The National Association of Realtors, The American Dream Survey, The Census, NAR and LPS First Look.
"78% of home owners say their home was the best investment they've ever made for 3 reasons: 1 Control, 2. Safety & 3. Investment.
This infographic provides data on the following frequently asked topics:
1. Pros & cons of renting a home vs buying a home.
2. Buying forecast:

What percent of home owners are more positive about home ownership then they were six months ago?
What percent say buying a home was the best investment they've ever made?
What percent of renters are planning on buying in the next two years?
3. The Markets current year over year economy statistics on:

Foreclosures
Delinquencies
Home sales
Mortgage rates
Asking prices
Construction starts
4. Most common sources used in home search.
Find the infographic here: Home Buying Vs Renting Infographic
"The "First-Time Home Buyers Guide offers potential home buyers a comprehensive handbook to dealing with and getting insights to all. The advantages of owning your own home, how to get your finances in order, a budget worksheet example, working out how much mortgage you can afford, what affects your Credit Score, how to improve your Credit, how to best apply for a loan and how to ensure your lender is the best one for you."
"It also details home insurance and tips on lowering it, home warranties, pros and cons of condos and co-ops, condo boards, information on title insurance, what to lookout for on a final walk-through, closing costs, common first-time buyer mistakes and why you need a real estate agent to assist you with all these details as well as how to best choose your agent," said Gea Elika, founder and principal broker of Elika Associates
The "First-Time Home Buyers Guide" will be offered to users as a free PDF download under the Buyers Guide section of the site Navigation. The Elika brokerage continues to offer premier services & guides to help their users conduct custom searches and handle the entire purchasing process from start to finish. For further information and contact visit our website: ElikaRealestate.com
About Elika Associates
Elika Associates is New York's premier buyers brokerage. Elika exclusively represents the buyer
and provides exceptional services tailored to each discerning client's unique real estate needs.
Elika provides buyers with expert unbiased assistance while finding, managing and negotiating
the purchase of real estate. Elika Associates is a proud member of REBNY, NAEBA and
REALTOR(TM).