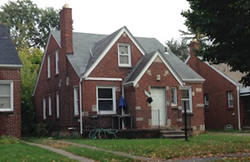 There are very few spots in the country where one can buy a rental property that generates a cash return of 15% - 20% per year.
Provo, UT (PRWEB) March 31, 2014
For the past decade, Nate Heaps has been slowly making a name for himself as someone who knows where to find great real estate deals. With over 3,000 properties bought and sold within the past decade, Nate is clearly doing something right. What's his secret? "Work hard, provide great deals for people and they'll come back for more."
Obviously this has been working for the young entrepreneur who recently purchased another 148 properties in Detroit Michigan. Last year, according to Wayne County records, Nate Heaps purchased 290 properties. When asked what he plans to do with all these properties he says, "Wholesale some of them, and rehab and rent out the rest for huge monthly cashflow. That's what it's all about."
Heaps not only keeps a lot of the properties himself, but also passes on these great deals to other investors who are looking for solid cashflowing properties. "There are very few spots in the country where one can buy a rental property that generates a cash return of 15% - 20% per year. I rehab these properties, bring them back to life, put long term tenants in them and give other investors great deals. That's why I have so much repeat business."
Nate says that Detroit has a lot of potential and according to some of nations wealthiest entrepreneurs, he might be on to something. Last year, Warren Buffett was quoted as saying that "Detroit is a land of huge potential," investing in over 20 Million to help with local Businesses bring in more job growth.
"I wouldn't touch Detroit 5 years ago, but I absolutely love it now because the timing is right with all the revitalization going on with money being pumped back into the city," he said. "A lot of times, you have to reach bottom before you can come back, and Detroit has definitely already seen the bottom and its on its way back up right now!"
Even Donald Trump is jumping on the band wagon who sees Detroit as a "good investment." What about billionaire Dan Gilbert of Quicken Loans who recently agreed, "Detroit is a solid investment" and is helping to reshape the downtown area of Detroit. According to the Wall Street Journal, he's invested $1.3 Billion in Detroit and shows no sign of slowing down.
For those looking to build cashflow, Nate has the ultimate solution. He created a company called Cashflow To Retire. The goal is to help those looking to increase their monthly cashflow and build their retirement. Those wanting more information on Nate Heaps or would like to see all the rental properties that are available, can visit CashflowToRetire.com
Nate also warns that in many of these depressed markets, there are certain areas one should not invest in.