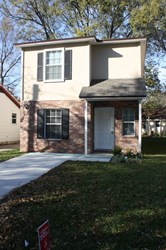 Online applications are now offered as a way to collect important information to speed up the process of obtaining a rental qualification
Jacksonville, Florida (PRWEB) October 11, 2013
Renting a home is now one viable option for many individuals who experience credit qualification issues. One Florida company is creating new opportunities to find available rentals in Jacksonville to remove the struggles that a person could experience during a home search. The http://www.jwbrentalhomes.com company is now listing its below market rent pricing for homes online.
Each property that is included in the homes now listed online is company owned and currently available for occupancy after rental applications are completed.
The credit challenges that many people have experienced since the 2008 crisis in the housing market have contributed to some denials of mortgages, rental applications and other sources of obtaining credit, according to a recent JWB company post online.
The rental prices that are currently attached to the available homes are priced affordably to assist all renters seeking an immediate way to reduce the cost of obtaining a home.
The company website has been updated with new properties and additional information to minimize the research required by a person seeking a home to rent in Florida.
"Online applications are now offered as a way to collect important information to speed up the process of obtaining a rental qualification," a source from the JWB Rental Homes company said.
The rental prices that are charged through some property management companies or private landlords can often increase each year based on economic conditions or policies from property owners. A person who depends on a specific rental price each month could seek to benefit from the properties in Jacksonville and surrounding areas offered through the JWBRentalHomes.com company.
"We're now providing an online chat system to help renters gather information about any property listed online to shorten the length of processing time required when a person is ready to submit an application to rent our homes," the source confirmed.
Updates are now made each day to the company listings that are posted for renters online. A blog has been established for renters and others seeking homes to purchase online. This educational portion of the company website now introduces tips for renting or to purchase a home using various resources with good or bad credit.
About JWBRentalHomes.com
The JWBRentalHomes.com company is a top resource in Florida to find homes for rent at and below market rental prices online. This company has expanded its housing portfolio and currently owns hundreds of different properties that are located in multiple counties. The JWBRentalHomes.com company has constructed its website to be a simple resource to find housing pricing, exact street address and online applications to begin the process for renters. The company staff is accessible online and through a local contact number to discuss all rental options for buyers with any type of credit history.