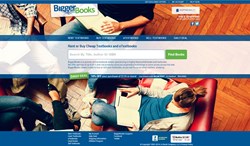 Lexington, KY (PRWEB) January 14, 2014
BiggerBooks recognizes that the main factor college students consider when purchasing their textbooks is affordability. By allowing students to rent their college textbooks, Biggerbooks is now able to offer the lowest prices possible. Biggerbooks will continue to also offer a wide variety of eTextbooks, new textbooks and used textbooks in order to meet every customer's needs.
BiggerBooks believes students will respond well to the new, modern website design. Notable improvements include restructured text and images, an easy-to-use and highly visible search bar and a simplified purchasing process. In order to save students even more money on their college textbooks, BiggerBooks also rolled out the Daily Deal feature which provides customers with a coupon code each day of the week to receive a unique discount.
Matt Montgomery, President and CEO of A Book Company, LLC, is confident in the improvements made to BiggerBooks, "We are now able to offer college students a discount along with already low priced textbooks on a daily basis. Our ultimate goal is to improve the lives of college students everywhere by saving them money."
The adoption of rented textbooks, along with the new design of BiggerBooks, is just in time to help college students preparing to order their spring 2014 textbooks to save the most money possible. The website is a favorable alternative to students purchasing textbooks from higher priced college bookstores.
About BiggerBooks:
BiggerBooks is a premier online retailer that was established in 1999 to provide college students with affordable textbooks. They are a brand of A Book Company, LLC.