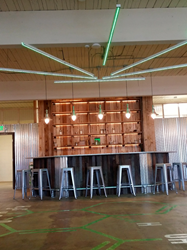 ...it's apparent to us that to be successful our focus needs to be on providing an excellent customer experience.
Renton, Washington (PRWEB) April 03, 2015
The owners of Renton's first retail cannabis establishment did their homework in bringing a unique approach to sale of retail marijuana. The Evergreen Market is one of the largest legal marijuana retailers in Washington, featuring an eleven foot "library" and granite bar where customers can learn about products, growers, and cannabis culture.
Eric Gaston, one of three owners, said, "After 18 months of planning and visiting numerous marijuana shops in Colorado and Washington, it's apparent to us that to be successful our focus needs to be on providing an excellent customer experience. Marijuana should be fun and interesting, and our core value is to embrace and celebrate the industry, working with growers who are passionate about their products and willing to share that passion with our customers."
The Evergreen Market breaks the stereotype of what a "pot shop" is supposed to be. It features wood reclaimed from a 100 year old barn in Lynden WA, a wall and gate comprised of twisted willow, four different departments, and over 2000 feet of retail space to explore. Cass Stewart manages the store, and having previously owned and managed The Apothecary on Capitol Hill in Seattle, he bridges the gap between medical marijuana and the emerging I502 retail landscape. Says Cass of his background and entry into retail cannabis, "It was important for me to work with a group of people who understood that retail marijuana exists today because of the hard work of those in the medical community. Putting the focus on the grower and celebrating the product in a way that respects the culture is a big deal to me and I am proud to be part of family that is committed to doing things the right way."
The Evergreen Market Grand Opening will take place from 10am until 6pm on Saturday April 18th, with an opportunity for the press to tour the location from 9am until 10am. There will be food trucks, an opportunity to meet several growers and producers, and special pricing on products.
In addition to the Grand Opening, there will be a business community open house and ribbon cutting on April 17th at lunchtime and a 4/20 celebration all day on April 20th.
The Evergreen Market is located at 409 Rainier Ave North in Renton, Washington. They are approximately 15-20 minutes from Seattle & Bellevue and one of the closest marijuana stores to SeaTac Airport.