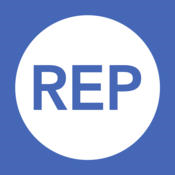 Republican Dating App Rep Making It Possible for Republicans to Date Like-Minded Individuals
(PRWEB) June 21, 2016
Conservative dating app Rep was recently launched on Apple iTunes store. The developers have claimed that the app is unique in its own way as it enables republicans to find and meet republicans only. The republican dating app helps conservatives to locate and date conservatives only. The developers added that they have used a special kind of algorithm in this mobile application so that republicans using the app can find and go on a date with republicans only in their respective areas.
The easy-to-use dating app is now available on Apple iTunes store only. Like with many other dating apps, users need to sign up to start using the app. Users can also set their preferences, just like in any other dating app. However, the developers maintained that the republican singles who would sign up using their email address and other details can be shielded against all sorts of cyber crimes and phishing attempts through the safety protocol of the republican dating app.
The Rep app allows conservative singles to check full-screen profile pictures of the other members or users of the app. It also allows individuals to chat with republican singles using the Instant Messaging feature before they mutually agree to go on a date. It also has an intuitive filtering feature to help users to find their dream dates more easily.
"We take user privacy and security very seriously. If some user finds that some other registered user is causing nuisance or trying to breach his or her privacy, he or she can immediately block that user. In addition to that, users do not need to give a lot of effort to find good dating partners, as we only have verified profiles in our community and the app interface is also quite simple and easy to use", said Don Yang, the chief developer of the conservative dating app.
However, Don added that the app is now exclusively available for American users or people living in the USA only. "By purpose, it's an app for the Americans at large and republican Americans in particular. So, it is quite obvious why the app is not available for use outside the US borders. If this becomes a huge success, we may launch similar apps for other countries", Mr. Yang said during the launch event.
About the Company
Rep is a dating app available on iTunes store exclusively and meant for republicans only. The app is conceived, designed, and developed by Conservativelove.com; an app development agency that only designs and develops apps for politically conservative people living in the USA. At present, the app development agency only designs apps for the US users, and the app development team is headed by Don Yang.
To know more about the app, visit https://itunes.apple.com/us/app/rep-single-republicans-free/id1122346789?l=zh&ls=1&mt=8