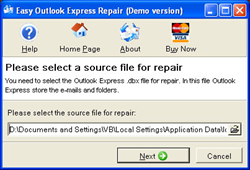 a compact and extremely powerful tool that helps users repair Inbox.dbx files containing Outlook Express messages.
New York, NY (PRWEB) July 01, 2014
Mail Repair, an established developer of data recovery and file repair tools, unveils the latest and the most technologically advanced version of Easy Outlook Express Repair, one of the company's most successful products. The new version leverages the power of a set of intelligent file analysis algorithms to restore data from the most seriously damaged DBX files. http://www.mail-repair.com/outlook-dbx.html
The product is intended for a very wide audience seeking a way to repair inbox.dbx files on their own. Easy Outlook Express Repair features a convenient wizard-based interface that dramatically facilitates the process of restoring emails and attachments from corrupted storage files. The wizard helps users with no hands-on experience in data recovery to restore their correspondence quickly and efficiently without hiring an external service. http://www.mail-repair.com/
The software fully automates the recovery process and requires virtually no user involvement, except for the selection of the damaged source file. Easy Outlook Express Repair helps repair inbox.dbx files damaged in all kinds of data corruption accidents, from file system crashes and hard drive failures to power outages and malware attacks or all sorts. http://www.mail-repair.com/faq.html
The software scans damaged DBX files, identifies recoverable records and extracts them as EML files to the user's hard drive for further archiving or re-importing to Outlook Express. Easy Outlook Express Repair supports DBX files of any size with any number of records, is compatible with all versions of Outlook Express and Windows, and does not require any additional components to be downloaded. The product is indispensable for regular users facing a major data corruption problem, and IT experts from large companies who need to repair inbox.dbx files of Outlook Express on a regular basis.
"The release of such a global update for Easy Outlook Express Repair is a serious milestone for our company, as we are currently going through the process of updating the entire product family with our new engine," explained Victor Bobrov, Head of Development at Mail Repair. "All our tests indicate that the new core does make a difference and helps recover users' emails considerably faster compared with all major competitors and the program's own previous versions."
All potential customers are strongly advised to download the free demo version of the program from the official site. http://www.mail-repair.com/download.html