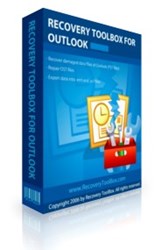 an ultimately efficient and intuitive tool that helps users repair PST files in a few mouse clicks.
Sacramento, CA (PRWEB) July 08, 2013
Recovery Toolbox, a software development company known for its growing line of specialized data recovery and file repair tools, announces the availability of the updated versions of Recovery Toolbox for Outlook, one of the leading solutions of its kind that is intended to help users repair PST file content in just a few mouse clicks.
The product addresses the needs of a very broad audience – from system and network administrators facing the consequences of data corruption incidents on a regular basis to home users looking for a fast and inexpensive way to repair PST files on their own. With its highly intuitive interface, Recovery Toolbox for Outlook is a great choice for users with minimal or no data recovery experience. The program supports recovery from damaged PST and OST files in ANSI and Unicode encoding, conversion of OST files to the PST format, recovery of data from password-protected files, independent recovery of email attachments from irrecoverable messages, as well as operation in the converter mode and output of recovered PST objects in the EML/MSG/TXT/VCF formats. Feel free to download PST repair software from official site.
"Our new tool offers a unique mix of functionality in a single package," explains Victor Bobrov, Senior Product Manager at Recovery Toolbox. "Apart from being a very efficient recovery tool, this program offers a host of conversion options, so you can convert data from old OST files to Unicode PST files, or, for instance, split PST files into objects and save them as individual messages, notes, tasks, calendar entries and contacts in corresponding folders on your hard drive. It's a uniquely powerful tool from any perspective and we are really glad to present its most advanced version to our customers."