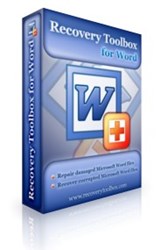 a compact and ultra-fast program that can repair Word file data in seconds.
Sacramento, CA (PRWEB) August 12, 2013
Recovery Toolbox, a software developer known for its line of powerful and fast recovery tools for nearly all http://www.repairword.recoverytoolbox.com/ popular office applications and a number of other programs, announces the release of a major update of Recovery Toolbox for Word, an ultimate solution that can repair Word file data after the most serious data corruption incidents. The updated data analysis engine of the program has been considerably improved to extract as much meaningful text as possible and remove all the junk, markup and unnecessary elements out of the recovery results http://www.recoverytoolbox.com/help_word.html . Recovery Toolbox for Word was created for the average user and has an interface easy enough even for people with no recovery experience at all, which makes it a perfect choice for novices and professionals alike. The program supports all major text file formats, including .doc and .docx, .dot and .dotx, as well as .rtf. http://www.recoverytoolbox.com/word.html Recovery Toolbox for Word can repair Word file data after all kinds of incidents, including power failures, BSOD's, virus attacks and interrupted downloads, and save the contents of Word documents in the form of clean text.
"Our team is proud of having created a Word recovery tool that requires just a few clicks to open a damaged DOC file and save all of its text to a new file seconds later," explains Victor Bobrov, Product Manager at Recovery Toolbox. "Damaged Word files are a common problem and this tool extracts text better than anything we've tested so far."
The demo version of the program is available for download from the manufacturer's website http://www.recoverytoolbox.com