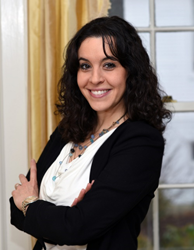 "It's nice to be recognized by industry experts for the collective efforts of my colleagues and me to deliver our customers exceptional services and results."
West Hartford, CT (PRWEB) July 21, 2015
Stephanie Higgins Bealing, President of Replacement Lens Express, was named a 40 Under Forty Recognition Award winner by HartfordBusiness.com. Hartfordbusiness.com is the digital publication of The Hartford Business Journal, a leading publication in community leaders and business initiatives. Each year the publication annually honors 40 emerging leaders under the age of 40 in the local community. Recipients are chosen by an independent panel of business leaders.
"It's an honor to be an Hartford Business 40 Under Forty winner," said Bealing. "It's nice to be recognized by industry experts for the collective efforts of my colleagues and me to deliver our customers exceptional services and results."
Since founding Replacement Lens Express(RLE) in 2010, Stephanie Higgins Bealing has grown her award-winning prescription eyeglass lens replacement company extensively on the web, with last year's sales exceeding $425,000 and delivering to customers in 55 countries. In her role, she has designed RLE's unique supply chain initiatives to allow the business to sell its name-brand products at significantly reduced prices, helping consumers save hundreds of dollars a year. She is an active participant in the local small business community, serving as an advisory board member for the Viscogliosi Entrepreneurship Center and guest lecturing around Connecticut.
Prior to founding her company, Bealing traveled to Antarctica to conduct a geochronological survey and held positions as a fuel cell engineer, where she presented her scientific results at international events. She worked as a strategic sourcing manager at several Fortune 500 companies. She holds two U.S. patents and is a regular judge at the Connecticut Invention Convention. Bealing promotes financial literacy as well as women in business and science at Miss Porter's School, where she serves as an executive member of the Alumnae Board.
Read full biography for Ms. Bealing
ABOUT REPLACEMENT LENS EXPRESS
For years, eye doctors have benefited from marking up their lenses hundreds of dollars. With customers in over 50 countries, RLE is disrupting the status quo in the prescription lens industry by offering consumers affordable lens options, starting from $29 versus the $196 national average, and four ways to buy flexibility:
Four Ways to Buy:
1. Ability to send in your own frame and have the purchased lenses installed
2. Buy both a new frame, new lenses and have them conveniently delivered to your doorstep.
3. Have your lenses cut out from a template and sent to your door for your own install.
4. No need for new lenses? Send in your new lenses and we will help you pick out the best frames
Quality:
Every pair of RLE glasses use the highest quality lens materials and are 100% customizable, offering gradient tints, mirror coatings, rhinestone decor and custom lens shapes. RLE is proud to have partnered with some of the most recognizable names in the eye wear industry, including Essilor, Zeiss and Kodak.
Speed:
At the RLE online store, customers can browse and purchase their prescription eyewear without ever leaving the comfort of their homes. Customers no longer have to wait in long lines in-store to pick and purchase their glasses because all RLE's high-quality prescription lenses are offered online. Due to the overwhelming response RLE has moved from a one-person lab to a state-of-the-art 35 person optical lab, increasing RLE's productivity and customer delivery times.
Design: 5,949 Ways to Express Your Style:
The RLE online boutique houses more than 5,949 different eyeglasses and sunglasses, because RLE's eyewear are reasonably priced from $60-250 respectively, style-conscious consumers can collect multiple pairs for multiple occasions and saves consumers hundreds of dollars.
Innovation: Technology Vision Correction:
From Progressive Clear Plastic lenses to Advanced HD Progressive Transitions Lenses, RLE houses its own branded RLE Digital Lenses and coatings, making the company the only service provider to offer its own line of high-quality lenses. RLE LuxAR and RLE Zelenà Anti-Glare Coatings are reasonably priced at $49 and $59, and offer all of the advantages of Zeiss and Crizal premium coatings, with the same factory warranties.
Media Contact, Barbara Lane, 210-570-6633
replacementlensexpress.com