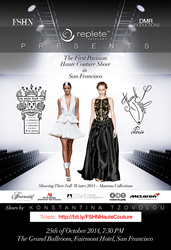 This show puts San Francisco on the world haute couture map
San Francisco, Ca (PRWEB) October 20, 2014
Replete Skincare announced the 2014 Haute Couture Fashion Event on Saturday, October 25, 2014 at 7:30 p.m. at the Fairmont San Francisco. Sponsored by Replete Skincare, an emerging seasonal skincare line, the 2014 Haute Couture Fashion Event will showcase the Fall/Winter 2014-2015 collections of Parisian Haute Couture designers, Franck Sorbier and on aura tout vu. The event is the most elaborate Parisian couture fashion event to arrive in San Francisco since Jean Paul Gaultier in 2012.
Presenting for the first time outside of Europe, Franck Sorbier is a living legend and one of the 10 permanent members of the Chambre Syndicale de la Haute Couture. Revered in the couture circles of Europe, Sorbier achieved haute couture status in 2005. After working with Chantal Thomass and Thierry Mugler, Sorbier presented his first collection in 1987. In 1996, Sorbier became a member of the French Federation of Couture and Ready-to-Wear, supported by Jean-Paul Gaultier and Sonia Rykiel. In 1999, Sorbier presented his first couture collection. In 2009, the Museum of Textiles in Lyon, France honored Sorbier with a 20-year retrospective exhibition. Sorbier's shows are always full of dramatic special effects and for San Francisco he is bringing 20 looks from his current collection along with special pieces from his Museum Collection.
Officially the wild child of haute couture, on aura tout vu, French meaning roughly "now that takes the cake!" is a collaboration of two Bulgarians who are true Parisian fashionistas, Livia Stoianova and Yassen Samouilov. With a signature sparkle and a firm dedication to pleasure and the sensations, the creative duo likes to flirt with their inspirations and remix them with a dollop of flamboyance. All of the fashion-wear they have imagined has employed the same spirit of distortion and fantasy. On aura tout vu resists the downward drag of conformism, freely exploring a variety of artistic expressions. For San Francisco, on aura tout vu will present 24 looks that will include dresses made out of crystals and precious stones. In addition, on aura tout vu will present the world premiere of High Gloss Haute Couture, their hotly anticipated haute couture accessory label.
Between the two runway shows, Replete Skincare will showcase the incredible voice of upcoming French pop singer, FRENCH. Named after his country of birth, this artist is the darling of the French couture houses and this event will mark his American premiere. His music will be followed by a presentation of Konstantina Tzovolu's Fall/Winter season collection of delectable shoes and booties entitled, "The Ballad of Heels."
Celebrating their official brand launch, Replete Skincare is sponsoring the 2014 Couture Fashion Event produced by FSHN Magazine & DMR Productions (Sacramento Fashion Week). Replete Skincare focuses on seasonal and personalized skincare. Like haute couture, Replete's products are exclusive custom-fitted ingredients that address each season and the needs of your skin by season. The ingredients are mineral and vitamin rich and 100% natural. The Replete anti-aging regime is the first of its kind to promote year-round beauty and balance. Replete Skincare's founder, Elisabeth Thieriot, is one of the World's preeminent connoisseurs of haute couture and her vision is to share the beauty of this art form with San Francisco. For more information: http://www.fshnmagazine.com/clhs2014
Replete Skincare is donating 10% of all ticket sales for the 2014 Haute Couture Fashion event to Reason to Party, an all-volunteer San Francisco 501(3)c non-profit that raises funds in fun ways for extraordinary local nonprofits. The funds are earmarked for Samasource, a nonprofit that helps connect poor women and youth to training and employment in the digital economy.
Tickets are available at:
http://www.eventbrite.com/e/paris-haute-couture-fashion-show-in-san-francisco-presented-by-replete-skincare-tickets-6567502577?ref=ebtnebtckt
For press enquiries and to request a press pass, please contact:
Elaine Mellis for Replete Skincare
Cell (415) 509-7576
elaine(at)elainemellis(dot)com
Shankha Goswami for FSHN Magazine
Cell (415) 349-0672
shankha(at)fshnmagazine(dot)com