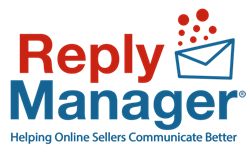 Hobe Sound, Florida (PRWEB) August 07, 2014
ReplyManager® (http://www.replymanager.com) is pleased to announce the release of version 6, offering new integrations and enhanced features to help online sellers communicate more efficiently. The web-based software has expanded its multi-channel support to include integrations with eBay's Resolution Center and the ChannelAdvisor platform, as well as administrative features such as optimized auto-responders and staff productivity reporting.
"Our goal for ReplyManager is to create an all-encompassing message management tool geared specifically toward online sellers in third-party marketplaces, something no-one else does," says CEO and Co-Founder Jodi Gaines Pereira. "With the launch of version 6, customers will be able to manage much of their messaging, all from within ReplyManager - a huge time-saver as many of our beta testers have proclaimed."
ReplyManager has also formed a strategic alliance with ChannelAdvisor to integrate with their order management and inventory database so that sellers with access to both platforms can quickly search customer order data and eBay product inventory - all without having to leave ReplyManager.
"We're very excited about working with ChannelAdvisor," said Pereira. "They have an incredible team and we look forward to working with them to continually improve the seller experience."
The latest version was rolled out to customers worldwide on Tuesday, August 5.
Key features include:
eBay Resolution Center Integration
The eBay Resolution Center integration allows users to view and respond to existing eBay cases directly from the ReplyManager application. PLUS, users will be able to organize cases with Category Tags and respond quickly with Standard Replies. These features are unique to ReplyManager and help sellers resolve cases more efficiently.
ChannelAdvisor Integration - Order and Inventory Search
ReplyManager is now available with ChannelAdvisor integration, allowing mutual customers to search and track ChannelAdvisor order data from within ReplyManager. The search pulls data using the sender's eBay ID or email address and displays results in ReplyManager. No need to open a different window unless you need to dig deeper. Users will also be able to search ChannelAdvisor inventory from their eBay messages.
Additional features and updates for Version 6 include:

Simplified and expanded rule conditions that allow users to easily create rules such as time-specific auto-responders for after-hours or weekends.
New report, Average Handle Time by User, helps managers monitor staff productivity.
Added support for common outgoing SMTP servers (e.g. Gmail, Hotmail, Yahoo!).
Ability to change the subject line of a message thread for optimal viewing and organization.
Added support for Calibri font by the HTML Editor.
Improved efficiency in the recycle area.
For more information about these features, including feature screenshots, visit http://blog.replymanager.com/2014/08/replymanager-expands-multi-channel.html.
---------
About ReplyManager LLC
ReplyManager offers software solutions to help online sellers manage inbound customer communication. The web-based message management tool consolidates messages from multiple selling channels, connects with third-party marketplaces (eBay, Amazon, Rakuten, etc.), automatically organizes email, sends auto-responders and provides easy access for staff to respond to email and customer messages - all from one location. ReplyManager was founded in 2001 in Hobe Sound, Florida and has helped more than 2,400 online sellers from 25 countries respond to customer messaging worldwide. For more information about ReplyManager, visit http://www.ReplyManager.com.