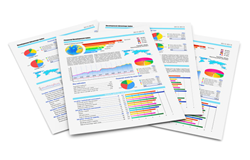 ...enterprise companies can stay up-to-date with current BI software...
Silicon Valley, CA (PRWEB) December 31, 2014
Dynasoft Synergy Inc, a Business Intelligence consulting firm and report conversion service, is making its mark in the Business Intelligence arena. As part of its automated report conversion service, Dynasoft has developed the Dynaflux System to achieve accurate report conversion between any BI system (e.g., WEBI to OBIEE / BI Publisher , Crystal reports to OBIEE, Actuate to Cognos, BRIO to OBIEE, BRIO / IR to BI Publisher, Actuate to OBIEE, Discoverer to OBIEE). "Dynaflux offers several advantages to enterprise companies, including a significant reduction in conversion costs and a quick return on investment (ROI)," says owner Jayavel Murugan. "Now, enterprise companies can stay up-to-date with current BI software, without needing to burden their IT department with hours of meticulous manual conversions."
The Dynaflux report conversion tool performs conversions at unparalleled speed and accuracy, bringing enormous cost and time savings to customers. This advancement in automation has led to increased productivity, efficiency, reliability, and consistency in BI report conversion while allowing companies to standardize the Business Intelligence environment among all users worldwide. Dynasoft has shown with its Dynaflux tool that good automation beats manual every time.
About Dynasoft
Dynasoft Synergy Inc, founded in 2009, is a world-class software automation company, specializing in automated report conversion of Business Intelligence tools for enterprise companies. From its inception, Dynasoft took four years to develop its unique proprietary tool – The Dynaflux System. The Dynaflux System works by extracting report information from a current reporting source and converting it to a new BI system. Notable Dynasoft Clients include Stanford University, State Farm, Oracle, and IBM. Dynasoft also offers consulting services in the areas of quality assurance, infrastructure management, business intelligence, and enterprise performance management. To learn more about Dynasoft and the Dynaflux System, visit http://www.dynasoftusa.com or contact their Fremont office at 510-894-1461.