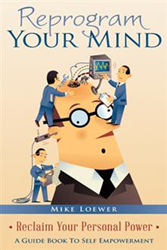 NAPERVILLE, Ill. (PRWEB) December 14, 2016
In today's world of change, chaos and cyberspace, where people are boxed within their minds, swallowed by stress and dispirited to achieve success, author Mike Loewer arms readers to reclaim their personal power and tackle life issues with a positive outlook through his latest publication "Reprogram Your Mind" (published by AuthorHouse). Edifying, enthralling and evocative, this self-help book is a simple and straightforward guide to an improved life.
"Reprogram Your Mind" is designed to refocus attention on the good in one's past, determine what is working for a person now and look forward to a future wanted in life. It is designed to lower the resistance to what is disturbing or holding a person back so what one really wants has a chance to show up.
This book has techniques Loewer calls "Mid Changers" readers can use in moments of distress and unease. It also contains "Assignments" to do over a period of time that will change the mind and net positive results.
"I want people to learn that the answers to life's issues are simple. Maybe not easy, but by taking action and getting some momentum in the direction of their desires, they may very well achieve them," the debut author shares.
A compendium inspired from the techniques that worked for Loewer as a consumer of positive information, this self-improvement guide, building on the idea of the law of attraction, presents an easy way to develop a new way of thinking and to reclaim one's personal power.
"Reprogram Your Mind"
By Mike Loewer
Hardcover | 6 x 9in | 220 pages | ISBN 9781489709301
Softcover | 6 x 9in | 220 pages | ISBN 9781489709288
E-Book | 220 pages | ISBN 9781489709295
Available at Amazon and Barnes & Noble
About the Author
Mike Loewer is a real estate broker living in Naperville. He has been in sales for 31 years and has been a consumer of positive information for almost 30 years. He would like to help people navigate through life with the use of his book.
LifeRich Publishing, the strategic publishing partnership of Reader's Digest and Author Solutions, LLC, was created to provide all writers a platform for sharing their stories, recipes, advice and more. LifeRich authors will benefit from a wealth of editorial design, marketing and education resources, specially created by Reader's Digest editors for the enrichment of these LifeSmart individuals. Books can be published in print, ebook or audio formats, with additional distribution to up to 25 million Reader's Digest customers through its online properties. Follow @LifeRichPub on Twitter or "Like" us at facebook.com/LifeRichPublishing for the latest updates.