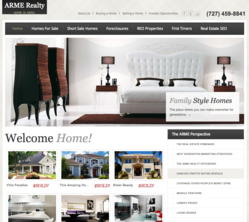 Clearwater, FL (PRWEB) July 08, 2013
ARME Realty.com is a reputable real estate online advertising company, located in Clearwater FL. The company recently released their latest web development toolkit in May, and since then have received a an overwhelming response to their product.
"Throughout the last month ARME Realty.com has created new business relationships with seventeen clients," says Simon Landers, spokesperson. We are working on several deals with a few other larger firms located in the Florida area and are excited about what the next few months have in store," continues Simon.
The web development toolkit designed by ARME Realty is essentially a package that was created by the company to make the process of building a website simple to understand and develop over time through the use of all white hat website development and advertising techniques.
Through the use of online advertising techniques including, keyword search analysis, video marketing, social networking, website content and many other variables ARME Realty can take a website and help make it grow to its full potential. Without the proper knowledge as to how to make this happen on their own real estate agents and brokers are in need of a reputable real estate advertising company.
During the last ten years the internet has greatly increased in popularity. It has become one of the most popular venues for doing business. Internet search engines like Google and Yahoo have created the simplest way possible for individuals to search for the information they need, including where and from whom to buy a home.
"Now is the prime time as an agent or broker in the real estate industry to get a jump claiming their piece of real estate online. There is still a lot of space available for purchase and with the right advertising strategies an agent or brokers website could be compared to owning a real estate firm on Fifth Avenue in Manhattan," says Mr. Landers.
If you are interested in acquiring the services of a reputable real estate online advertising company and would like to learn more about ARME Realty call (727) 459-8841 and speak with an agent.