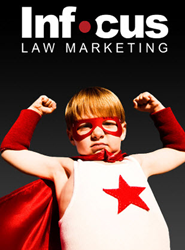 Before we start any lawyer marketing campaign for a client we always first check to see what comes up in Google under their firm name as well as for names of different attorneys at the firm
Seattle, WA (PRWEB) July 31, 2014
Infocus Law Marketing, a law firm internet marketing, web design and SEO company has expanded it's services to include reputation management and marketing.
Online reputation management is fast becoming an essential task for today's law firm. What people are saying about a particular law firm, it's attorneys, paralegals and other staff can cost the firm a lot of money if it's not positive.
"Before we start any lawyer marketing campaign for a client we always first check to see what comes up in Google under their firm name as well as for names of different attorneys at the firm", says law firm seo expert John Gorecki and founder of Infocus Law Marketing.
"We also look at what comes up for the firm name plus the word review or reviews" says Gorecki. He warns that people are doing their research on potential law firms and individual attorneys and if they see negative reviews or even an absence of positive information on a firm they are in danger of losing that potential client.
To help lawyers with their reputation Infocus Law Marketing has released a combination of services designed to not only monitor a law firms reputation online but also unique strategies to help it improve it's reputation as well as help the firm market their reputation.
"We go way beyond just law firm reputation management... managing doesn't make the law firm money... marketing does", says Gorecki. Part of Infocus Law Marketing's reputation marketing strategy involves creating a review portal for the firm where clients are instructed to leave feedback as they close out their cases.
If the client leaves negative feedback it is sent straight to the firm and the client is reassured that their issue will be brought to the attention of the firm and will be addressed, but if the client leaves positive feedback it is also sent to the firm, but an additional step happens where clients are then encouraged to also post the review on popular review sites such as Google, Yelp and others.
Some of the other strategies performed by Infocus Law Marketing include increasing client ratings on various legal (and non-legal) websites, press releases and even custom videos showcasing positive client reviews or other achievements. "We have an entire bag of tricks that we can pull out depending on how much reputation marketing a firm needs" says Gorecki, "Often clients come to us because a negative review about them is ranking high for their name in Google and they want it gone", he adds, "while some reviews are hard to get rid off, often we simply push the negative reviews off the first page of results and replace them with positive properties".
Infocus Law Marketing offers law firm web design, search engine optimization, social media, content writing and pay per click ad campaign creation/management services and more. With 10+ years of internet marketing experience John Gorecki and his growing team help law firms of all sizes increase their case load.
Infocus Law Marketing works with all types of law firms including but not limited to those practicing personal injury law, DUI/criminal defense, divorce/family law, immigration law, tax law, bankruptcy law and more.
To schedule a free marketing analysis visit http://www.infocuslawmarketing.com or call 1-877-434-4161