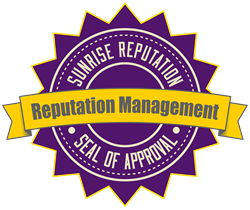 Their goal is to get the client to sign a monthly contract for 6-12 months, then figure how to get to do reputation management, it's just plain wrong and I won't stand for it any longer. - Brandon Hopkins, Sunrise Reputation
Madera, CA (PRWEB) August 20, 2013
"Reputation management is like the wild west!" says Brandon Hopkins, owner of SunriseReputation.com. "With no industry oversight, everyone can claim to be an 'expert' and they don't need to know anything about the industry. Their goal is to get the client to sign a monthly contract for 6-12 months, then figure how to get to do reputation management, it's just plain wrong and I won't stand for it any longer."
These harsh words from Hopkins come on the heels of many recent clients discussing their work with previous reputation management companies. Hopkins reports that more and more of Sunrise Reputation clients have previously worked with an online reputation manager and the results have been poor.
In an effort to provide real change in the industry, Hopkins and Sunrise have offered to review and make suggestions for any individual or business reputation management campaigns. Hopkins explains, "If you've hired someone else, we'll take a look and give you suggestions. You can pass along that information or you can handle it yourself. If you haven't yet hired someone, we'll lay out a plan of attack to reclaim your positive online reputation."
Standard practices across the reputation management industry have been anything but standard in the previous years, that needs to change according to Hopkins. "I feel bad for my clients who have been paying another company for 12 months and still have negative information showing about them on the first page, if you can't clean up an online reputation, you have no business selling a service. You're not just filling your bank account, your damaging lives, real lives of real people, enough is enough!" says the zealous Hopkins.
"My clients, first and foremost, get honesty. If I can't help, I will explain why. If you've had 5 DUI's, I won't be good fit for you. If you've made a mistake or had a lapse in judgement, I can help," Hopkins says and goes on to explain his method of pricing, "I will tell you what it's going to cost, the total figure up front. I will also tell you how long it's going to take. I won't flip-flop on this issues or yank you around, there is too much at stake, something I wish other online reputation management companies would come to realize."
Sunrise Reputation's offer of a free reputation management campaign review along with suggestions is aimed at companies who prefer to do things behind closed doors and out of site of the customer. "Everything we do is 100% transparent. We can give you usernames and passwords for everything we create, reports, updates, as much information as you want to receive," says Hopkins.
Offering a full line of reputation management services, SunriseReputation.com can help businesses and individuals alike. For more information, Brandon Hopkins has offered to give his personal cell phone for reputation management questions. He can be reached at 559-871-1613. For more information about Sunrise visit http://www.SunriseReputation.com/.