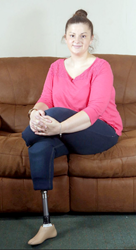 We are living in a society that is represented by people of all walks of life.
NORWICH, UK (PRWEB) October 12, 2015
Double amputee Elizabeth "Lizzy" Holmes has signed a modeling contract with Talent Management, one of the UK's leading talent and modeling agencies, a nod to the growing demand for diversity on the catwalk. Holmes, a 24-year-old former nurse, had both legs amputated in 2012 after a lifetime of painful surgeries and therapies failed to correct the severe bilateral congenital talipes equinovaurus—also known as club foot.
Holmes has made headlines in the UK for becoming the first double amputee to sign with a modeling agency after submitting her story to Talent Management Operations Manager Suzy O'Connor, who was deeply moved by the young woman's journey that included 36 surgeries, beginning at age 7 months, to correct her tibia and fibula, acutely twisted due to the deformity. At age 21, plagued with chronic arthritis, painful bone shards in her ankle joints and other unrelenting problems, physicians told Holmes there was nothing more that could be done to help her.
It was then that Holmes asked to have her legs amputated, and her physicians agreed.
According to "Patient," an online medical resource in the UK, congenital talipes equinovarus is a congenital condition characterized by an excessively turned in foot (equinovarus) and high medial longitudinal arch (cavus). If left untreated it can result in long-term disability, deformity and pain. The condition appears in approximately one in 1,000 births in the UK, and of those, 50 percent of cases are bilateral (affecting both feet).
Holmes had her first amputation below the knee the day after her wedding to soldier Lewis Georgeson in 2012. Although she had trained as a nurse, Holmes was forced to quit due to the physical demands of the work. Now studying with the Open University to become a primary school teacher, Holmes is eager to begin a modeling career with Talent Management.
She was given two sets of prosthetic legs by the NHS, the UK's national health service organization—one for everyday walking, and the other a pair of blades for running and sports. She plans to raise money for special prosthetic leg covers for swimming, which are not available through the NHS.
Models with disabilities are becoming more visible in the industry, both in the U.S. and in Europe. In February 2015, New York's Fashion Week showcased disabled models from all over the world, including the world's first male amputee to hit the catwalk.
O'Connor says that while signing Holmes had everything to do with the young woman's positive attitude and fearless approach to living successfully despite her obstacles, it is also indicative of changing attitudes and a new emphasis on diversity in the modeling industry.
"Her whole countenance is just extraordinary," O'Connor says. "As an agency we get inquiries specifically for disabled models, because we are living in a society that is represented by people of all walks of life, and that's the philosophy by which our agency has always operated.
"Elizabeth is a remarkable person, and we are thrilled to represent her."
For more information, visit the Talent Management website, email suzy(at)talentmanagement(dot)com, or call (925) 719-0185.
About Talent Management Modeling Agency:
For 25 years, Talent Management has enjoyed a reputation as one of Europe's leading modelling and talent agencies. Headed by modelling and entertainment industry professionals Damian and Suzy O'Connor, Talent Management represents performers and models from all walks of life, throughout the UK.
Talent Management encourages aspiring entertainers and models to create a profile and register online helping to launch new careers.
###