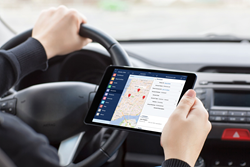 "The in-house connection between Resco Mobile CRM and Salesforce creates great potential for our partners and customers. Resco aims to become an ultimate problem solver for companies struggling with their enterprise mobile strategy," Radomir Vozar, CEO
Boston, MA; San Jose, CA; San Francisco, CA; New York, NY; Seattle, WA; Austin, TX (PRWEB) October 05, 2016
Resco, a leading provider of cross-platform mobile CRM solutions to businesses of all sizes, today announced, it made its number one mobile CRM solution available to the Salesforce community. Expanding its assets, Resco is extending its overall strategy and bringing a platform to any organization that utilizes Salesforce solutions & technologies.
Resco Mobile CRM for Salesforce is a fully-functional mobile solution with an always-updated set of new advanced features. Numerous companies will be able to extend the power of Salesforce on mobile devices. Resco Mobile CRM lets users completely personalize Salesforce on their phone/tablet for a number of roles, teams, brands, and projects.
The connection between Resco Mobile CRM and Salesforce helps companies and its workers on the go, such as sales reps, service staff, etc. Thanks to the native connector, mobile workers can get 100% offline access to their Salesforce data with no limitations. Thus, all the features and functionalities of the mobile CRM app are available also when the app is disconnected.
Resco Mobile CRM completes Salesforce with mobile-specific features. Route planning, advanced scheduling, reports, BI, emails, and security altogether, form an all-in-one business tool for the mobile workforce. It has now become an identical fully-functional Mobile CRM as the one that's been serving thousands of Microsoft Dynamics CRM customers for years.
"With sales and service reps relying on more than just two apps these days to complete their ground work — CRM and email, it's only fitting that our strategy empowers users with the most flexibility, collaboration efforts and extended features that truly enable a simplified experience. Customer Relationship Management is more than just replies to emails, it's about meeting them in person, showing presentations, getting information relayed and those contracts signed — on the spot. With Resco Mobile CRM for Salesforce, you can do all that and more, making your sales and service reps fully equipped, reaching new levels of productivity and customer success." exemplifies Agnes Valkova, Marketing Manager at Resco.
About Resco Mobile CRM
Resco Mobile CRM is the all-in-one mobile solution that gives users around-the-clock access to CRM data wherever they are. It can be utilized as a mobile client to CRM systems, such as Salesforce, Microsoft Dynamics CRM, Oracle CX, or as a standalone CRM system. It offers offline capabilities, interactive maps, support of custom entities, advanced customization ablities & many other attributes that make it the product people love to use.
For more information visit: http://www.resco.net/mobilecrm/salesforce.aspx
About Resco
Resco is one of the global leaders in developing cross-platform mobile software solutions. With a growing customer base of more than a million users & 5,000 corporations in over 100 countries, Resco has become the number one mobile client for Microsoft Dynamics CRM. Resco's flagship product, Resco Mobile CRM, is now available for companies that utilize various CRM or ERP systems, such Salesforce, Oracle CX, and as a standalone CRM solution.
For more information visit: http://www.resco.net/company/about.aspx