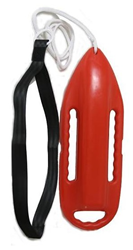 Used by rescue professionals around the world for 30 years
Los Angeles, CA (PRWEB) December 10, 2014
When it comes to lifesaving tools, it is important to choose a company and a product that is trustworthy. When looking for a lifeguard accessory, choosing a trusted and reliable product can essentially mean saving a life or losing one. Now Lifeguard Master, the popular lifeguard supply company, has a new line of rescue cans available that are great for those who serve their lifeguard duty on the ocean water and beach.
Lifeguard Master offers both a Professional Rescue Can and a Standard Rescue Can. The professional rescue can is by far the elite of rescue cans. It is world class and second to none. It was first developed in Los Angeles, California. This pro rescue can is a waterproof and floatable tool and is made for life saving in any ocean element. The can comes with the nylon shoulder strap with a hook and loop closure. Since its original development over 30 years ago, upgrades have developed the rescue can to what it is today, a superior product matched by none.
The Professional Rescue Can comes in a bright red color to ensure high visibility. An upgrade from the Standard Rescue Can, this Professional Rescue Can has an outside shell of linear plastic allowing for this rescue can to maintain a lightweight shell so a lifeguard can grab the rescue can and start pursuing the victim. The handgrips have a molded pebble-grain to reduce slippage in and out of water. With a heavy-duty two-inch nylon strap and 10 inches of 11/32 line, the rescue can comes with a seven-foot nylon shoulder strap that can secure around the lifeguard easily as they head back to shore. At only 28 inches in length, this Professional Rescue Can is the best on the market. To view a video of the professional rescue can, please click on: Professional rescue can video
The Standard Rescue Can also offered comes in a bright red color for easily visibility. The lightweight and durable shell is made from a hard plastic including super strong cross-linked polyethylene. This strong outer shell makes this rescue can long lasting and robust outside layer. The handgrips on this Standard Rescue Can are molded and have a pebble-grain to reduce slippage. There is also an interior rescue can wall for added thickness and strength. This model also includes a two-inch heavy-duty nylon strap and a 10-foot towline. The three-pound and 28-inch long Standard Rescue Can is lightweight, easy to grip, and most importantly, an effective tool in saving lives on the beach.
Lifeguard rescue cans are used most often on waterfronts and surf beaches. The molded handgrips on the side allow the victim to have a firm hold on the rescue can in rough waters and are also buoyant enough to support multiple victims at the same time if needed. As the lifeguard swims out to the victim, the lifeguard can easily place a large nylon strap around them as the run while still holding onto the rescue can until they get into the water. For these reasons, a rescue can is best used on the beach where currents can be heavier and multiple victims in danger at the same time.
In addition to ocean rescue cans, Lifeguard master also offers ring buoys. The standard ring buoys offered by Lifeguard Master are US Coast Guard approved. These are very useful in boats and swimming pools.
Rescue tubes are made from a long foam material that can be handed to a victim in a pool or latched onto by the victim in a lake. Rescue tubes include a strap that extends throughout the tube and can wrap around the lifeguard, sometimes with plastic clips to go around the victim as well. Best used for pool or lake settings, rescue tubes are highly effective when waves or currents are not strong and where a rescue extension is most effective. Lifeguard Master offers a wide range of rescue tubes that come in a variety of lengths for different area sizes and victims.
Lifeguard Master has been in the emergency and life saving industry for many years. Sammy, the owner and founder of Lifeguard Master has been a lifeguard himself for 7 years. He knows the importance have having all the equipment readily available for a first responder, and through the years Lifeguard Master has become a robust lifeguard supply and lifeguard store company, accommodating the anticipating needs of first responders around the country and around the world. Lifeguard Master's determination to excellence and rescue safety has quickly made it a leader in its industry. For more information, please give us a call, send us an e-mail or visit our website. Also to stay updated with the latest news in emergency supplies, please visit our forum where rescue professionals from around the country and world stay connect, and post the latest emergency news at LifeguardsOnline.com.
Sammy
Lifeguard Master
(714) 605-3090
http://LifeguardMaster.com