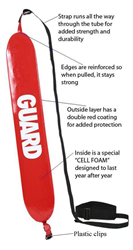 Perfect for the pool or lake.
Los Angeles, CA (PRWEB) July 30, 2014
Whether a lifeguard is out by a pool or watching for swimmers on the beach, lifeguard supplies are vital. Not only is it important to have the right supplies on hand, but quality supplies can sometimes mean a person's life. Some rescue tubes last between six months to a year, however, if a rescue tube was needed and did not function properly due to lower standards, that can put the swimming victim's life in jeopardy. Now the lifeguard supply company, Lifeguard Master, has re-evaluated the rescue tubes they offer and redesigned them to last longer.
The most popular rescue tubes that were improved by Lifeguard Master are the 40-inch tube and the 50-inch tube. The 40-inch rescue tube is great for small sized swimming pools where there are less than 10 people swimming at a time. The 50-inch rescue tube is designed with larger sized swimming pools in mind where lifeguards, lifeguard managers, and supervisors prefer to get a 50 Inch rescue tube where there are many patrons swimming in the water at one time.
Both rescue tubes have the word "GUARD" written on the front in white surrounded by a bright red. Double coating on the outside and a special foam material on the inside make these tubes last twice as long as other rescue tubes on the market today. Both have a durable 8-foot long strap. The 40-inch rescue tube has two size buckles to wrap the tube around the victim. This 8-foot long strap comes with an adjustable belt to go around the lifeguard. This strap also runs through the entire length of the tube and out of the other end. The ends of the straps that attach to the foam are double-reinforced to withstand hard pulls.
The rescue tubes also have a cutaway feature that makes tight and comfortable armrests while guarding. The 40-inch tube measures 40"x6"x3.25". The 50-inch tube measures 50"x6"x3.25".
Since these rescue tubes use a closed cell foam inside all the rescue tubes, these rescue tubes last longer and can withstand trauma. The double layer of exterior coating allows for extra thickness so rescue tubes last for years to come. Rescue tubes from Lifeguard Master are used by EMS professionals and safety instructors from around the world because of their high quality.
"I was impressed with my first order from [Lifeguard Master]. I had to outfit my 15-year-old for his first lifeguard job. The merchandise arrived in the proper time and quality promised. The pricing is very reasonable for the good quality provided. I just placed my second order for some additional rescue gear for my son. I didn't bother with other sites because the first time experience was great. No need to shop around when you find a good merchant," says customer, Sergeant Brian Haggerty.
Lifeguard Master also offers a professional rescue can and ring buoys that may suit the needs of lifeguards in other environments. The professional rescue can has a linear plastic shell with pebble-grained hand grips to reduce slippage. The rescue can has an interior wall for added thickness and has a nylon strap. The ring buoy is approved by the United States Coast Guard and is classified as a PFD type 4. Ring buoys can often go places where lifeguards cannot making it an essential safety tool.
Whether a lifeguard is new to the business or experienced, updating and maintaining safety equipment is a must. Rescue tubes can aid the lifeguard in victim rescue making it an effective retrieval of the victim. With the safety tool being light-weight and durable, rescue tubes are great to have on hand when tragedy strikes.
To visit Lifeguard Master's sister site, please visit http://www.lifeguardshirt.com/rescuetubes/.
Lifeguard Master has been in the emergency and life saving industry for many years. Sammy, the owner and founder of Lifeguard Master has been a lifeguard himself for 7 years. He knows the importance have having all the equipment readily available for a first responder, and through the years Lifeguard Master has become a robust lifeguard supply and lifeguard store company, accommodating the anticipating needs of first responders around the country and around the world. Lifeguard Master's determination to excellence and rescue safety has quickly made it a leader in its industry. For more information, please give us a call, send us an e-mail or visit our website. Also to stay updated with the latest news in emergency supplies, please visit our forum where rescue professionals from around the country and world stay connect, and post the latest emergency news at LifeguardsOnline.com.
Sammy
Lifeguard Master
(714) 605-3090
http://LifeguardMaster.com