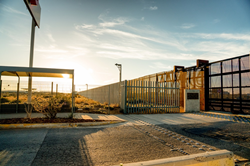 WORCESTER, Mass. (PRWEB) October 30, 2019
A researcher at Worcester Polytechnic Institute (WPI) is developing analytical tools to estimate capacities for holding sites, judges, and other resources needed to humanely process migrant asylum cases at the U.S. southern border.
Andrew Trapp, associate professor of operations and industrial engineering at the Foisie Business School at WPI, has received a $63,730 supplemental grant from the National Science Foundation to fund the research. The work builds on previous research that Trapp, colleagues, and students have done to develop analytical tools to better match refugees to communities.
Under the new award, Trapp will use queueing theory to develop a model that government authorities such as the Department of Homeland Security could use to determine the resources needed to process a proportion of asylum applicants within a specified time period. Queueing science is an established tool that allows organizations such as banks and fast-food restaurants to manage lines of customers, but it can also be used to benefit society, according to Trapp.
"A business may have servers and lines and a desire to serve 95% of its customers within a certain time period," Trapp said. "Similarly, at the southern border, we have judges and queues of asylum seekers. The goal is to develop a tool that decision makers could use when managing those queues."
The flow of migrants to the U.S. southwestern border has surged in recent months, with U.S. agents apprehending nearly 51,000 people at the border during August. People from Guatemala, Honduras, and El Salvador have historically represented some of the biggest categories of asylum seekers.
More generally, Trapp is interested in using analytics to improve the lives of vulnerable populations. He spent a year of his life in urban Los Angeles, working to find shelter and services for homeless youths. He has also worked with colleagues on research to better understand illicit supply chains involved in human trafficking.
For his project on asylum resources, Trapp is working with Geri-Louise Dimas, a PhD student in data science at WPI, and five WPI undergraduates who are undertaking their Major Qualifying Project, or MQP. Goals include understanding the asylum process, the flow of people across various border sectors, and what affects that flow, Trapp said.
"There is great potential of using the tools that exist now, and developing new tools contextually, that can make a great difference in our society," Trapp said. "It's the right time to think about doing so."
About Worcester Polytechnic Institute
WPI, the global leader in project-based learning, is a distinctive, top-tier technological university founded in 1865 on the principle that students learn most effectively by applying the theory learned in the classroom to the practice of solving real-world problems. Recognized by the National Academy of Engineering with the 2016 Bernard M. Gordon Prize for Innovation in Engineering and Technology Education, WPI's pioneering project-based curriculum engages undergraduates in solving important scientific, technological, and societal problems throughout their education and at more than 50 project centers around the world. WPI offers more than 50 bachelor's, master's, and doctoral degree programs across 14 academic departments in science, engineering, technology, business, the social sciences, and the humanities and arts. Its faculty and students pursue groundbreaking research to meet ongoing challenges in health and biotechnology; robotics and the internet of things; advanced materials and manufacturing; cyber, data, and security systems; learning science; and more. http://www.wpi.edu
Contact:
Alison Duffy, Director of Strategic Communications
Worcester Polytechnic Institute
Worcester, Massachusetts
508-831-6656; 508-340-5040
amduffy@wpi.edu