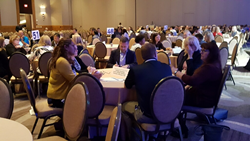 When we, as minority businesses, work together, we can accomplish anything.
Wilmington, Delaware (PRWEB) October 04, 2017
Reshma Moorthy, President of Frontier Technologies, Inc., has been invited to speak at the Asian American Chamber of Commerce of Greater Philadelphia's (AACCGP) MEDweek speaker panel, about her experience as an outstanding female Asian successful business leader, on Thursday, October 5, at 200 S Broad Street, Philadelphia, Pennsylvania.
MEDweek PHL – or Minority Enterprise Development Week, is an annual celebration of minority led enterprises, held by the City of Philadelphia since 1984, making this the 33nd in its history. During the week, the theme will be "All Roads Lead To Inclusion", and a variety of workshops and panels will be held.
"Working closely with the Eastern Minority Supplier Development Council, for years, Reshma and her team at Frontier Technologies have consistently been involved in fostering and supporting minority and woman-led businesses," says Valarie Cofield, President of the EMSDC, who asked Moorthy to speak.
"You and your company have demonstrated continuous growth, a keen understanding of the marketplace and a commitment to not only growing your business but giving back to the community," said Cofield in a letter to Moorthy. "It is our honor to recommend you for this panel."
Moorthy recently won an election at the EMSDC, to be Chair of the Minority Business Enterprise Input Committee (MBEIC), where she leads efforts to coordinate and collaborate with other minority businesses so that their voices may be heard. As President of Frontier Technologies, Moorthy worked her way up the company as a second-generation business leader; the company was founded by her mother, Jayshree, in 1989.
At the panel, Reshma Moorthy will speak to her experience using her parents' guidance to innovate and transform the company into what it is today. "I am honored to be invited to speak at the MEDweek panel," says Moorthy. "I never would have known that entrepreneurship would be possible for someone like me without my parents' example. I hope that through the panel I can provide similar inspiration to other women, Asian Americans, and minority business leaders. And I hope I can send the message that when we, as minority businesses, work together, we can accomplish anything."
About Frontier Technologies, Inc:
Frontier Technologies, Inc., headquarters in Wilmington, DE, along with operations and clients across the US, is a full-service Information Technology (IT) Infrastructure Systems & Staff Augmentation company—enabling enterprises to meet or exceed their IT goals on-time, on-budget, and on-spec. A minority-woman owned business as classified by the government for supplier-diversity initiatives. Leveraging almost 30 years in business, forming strategic partnerships with IT giants like IBM, Dell-EMC, VMware, Microsoft, HP and small businesses alike to provide clients the best-of-breed solutions with ease. Frontier is brand and technology agnostic. Frontier provides the consultative services for evaluating and selecting the best solutions providing clients peace of mind and a sustainable ROI.