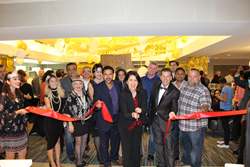 "We are grateful to have such an amazing team who take immense pride in our service and product. It is with this enthusiasm we strive to ensure we create incredible experiences for our beloved guests who will thrive with us!" Said GM Victoria Ferrer
Doral, Florida (PRWEB) November 22, 2016
The 129-suite Residence Inn by Marriott in Doral, Florida celebrated its grand opening with a ribbon cutting ceremony. Located at 3450 NW 91st Avenue, the Residence Inn Miami Airport West/Doral operates as a Marriott franchise, owned and managed by hospitality management company Baywood Hotels.
Near U.S. Southern Command and eight miles from Miami International Airport, the Residence Inn Miami Airport West/Doral offers its guests convenient access to FIU, Dolphin Mall, Port of Miami, Great Golfing in Miami and great dining options. Rates vary depending on the guest's length of stay.
"We are pleased to introduce Residence Inn hotels in the Miami Doral area," said Diane Mayer, vice president and global brand manager of Residence Inn. "When on the road for an extended period, our guests need space to spread out, maintain their life's pace and restore their energy to help them maintain a healthy balance and routine while traveling. This new hotel offers them a seamless blend of modern style and functionality that allows them to settle in and thrive."
Residence Inn properties are designed as all-suite hotels that offer studio and one-bedroom suites. Guests looking for a revitalizing sleep experience will enjoy the hotel's plush mattresses and crisp linens, while focused on being productive, finding value in their suite's large, well-lit work desk, ergonomic chair and complimentary high-speed Internet access. Designed for stays of five nights or more, each suite also has a fully-equipped kitchen with a coffeemaker, microwave oven, stove top, diahwasher and residential-sized appliances.
The Residence Inn Miami Airport West/Doral's complimentary breakfast has a variety of options, including specially-made featured items. Guests can start their day off right with healthy food choices and a convenient to-go offering, making sure they do not miss the most important meal of the day. Guests can grill in the outdoor Weber Gas Grill or enjoy a drink from the "OnTheGo Bar" and relax by the fire pit lounge, which overlooks palm trees and the hotel's refreshing outdoor pool, where a dip is always great.
ABOUT RESIDENCE INN BY MARRIOTT
With more than 600 properties in the United States, Canada, Europe, the Middle East and Central America, Residence Inn by Marriott is a leader in the extended-stay lodging segment. Extending the feeling of comfortable living on the road, the Residence Inn Miami Airport West/Doral offers guests inviting and functional public spaces to relax or collaborate. Road warriors and families alike enjoy the hotel's grocery delivery service, complimentary Wi-Fi, 24-hour onsite food and beverage market, dry cleaning services, and onsite guest laundry room. The hotel's weeknight evening gatherings offer a casual, relaxing environment where guests can be as social as they want, while enjoying light fare. The hotel also maintains a business library where guests can search the web and print materials. Our beautiful hotel also provides guests with an outdoor, heated swimming pool, and exercise room.
Residence Inn participates in the company's award-winning Marriott Rewards frequent travel program that allows members to earn hotel points or airline miles for every dollar spent during each stay. For more information or reservations, contact the Residence Inn Miami Airport West/Doral directly at 786-814-8427, call the Residence Inn toll-free number at 800-331-3131 or visit http://www.marriott.com/MIAMN . For travel tips, the latest on the brand or to connect with other travelers, "like" Residence Inn on Facebook: https://www.facebook.com/ResidenceInnMiamiAirportWestDoral/
ABOUT BAYWOOD HOTELS
Baywood Hotels, Inc. is one of the fastest-growing and privately-owned hotel management companies in the nation. Established in 1975 with one independent motel in Laurel, MD, Baywood now owns and operates over $800 million in assets. Today, our corporate headquarters is located centrally in Greenbelt, Maryland, a suburb of Washington, DC, with regional offices in Chantilly, VA, Miami, FL and San Antonio, TX.
We are recognized in our regions as an innovative leader in the hotel industry. We create value for our investors starting with product concept and development and ultimately through the outstanding management of our assets.
Our focused vision, strong values and aggressive long-range strategy have helped us develop reputable, well-branded hotels in areas where Baywood has competitive expertise and synergies.
Baywood Hotels' portfolio includes well-known brands, such as Marriott, Hilton and InterContinental Hotels Group, as well as several independent brands. Baywood Hotels employs over 1,000 associates nationwide.