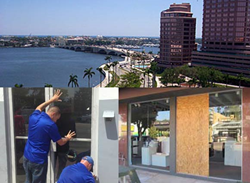 Busy homeowners in affluent communities like West Palm Beach do not always realize just how complicated home glass repair can be
West Palm Beach, Florida (PRWEB) September 17, 2014
Express Glass and Board Up, a top home and residential glass repair service serving West Palm Beach, is proud to announce further enhancements to its website information for its consumer customers. People searching for glass repair services often do not know the types of services offered, and therefore can have a time selecting the best residential glass repair company.
"Busy homeowners in affluent communities like West Palm Beach do not always realize just how complicated home glass repair can be," explained Yani Santos, general manager of Express Glass. "We've upgraded our website and blog presence to clarify the types of available services from our company."
To learn more about specific home or residential glass repair services offered to West Palm Beach residents, please visit http://www.expressglassfl.com/west-palm-beach-glass-window-repair/. That page is a jumping off point to learn more about services such as sliding glass door repair or replacement, emergency 24/7 service, the staff capabilities, quality of material selection, and the market reputation and reviews of the company. Recent service clarifications include emergency glass repair, glass board up, sliding glass parts and replacement as well as sliding glass door repair available directly at http://www.expressglassfl.com/home-window-repair/glass-repair-replacement/.
West Palm Beach: Home & Residential Glass Repair Reviews
With a vast offering of services for residential customers, the company is especially proud of its online review profile. The company has listings on Google+, Yelp, and Angie's list. On Google+ alone the company enjoys a 4.8 star rating with five timely reviews from real customers in West Palm Beach / Palm Beach County. (Reviews can be read at https://plus.google.com/104655744093421604412/about.) Among comments visible on that page are phrases such as 'My sliding glass door repair was excellent,' 'Excellent Service! Thank you!,' and 'Thank you Express Glass for your quick hassle-free service.' That said, the company is bolstering its website information and blog so that homeowners can see the depth of services offered in West Palm Beach from sliding glass door repair to window replacement to free estimates and 10% discount offers.
About Express Glass and Board Up
Express Glass and Board Up Service Inc. is a family owned and operated glass repair business with more than 20 years of experience. Their professional technicians and the large variety of inventory make Express Glass the top glass repair service. If customers are looking for West Palm Beach glass repair or Ft. Lauderdale glass repair as well as glass repair in Delray Beach or West Palm Beach glass repair, please reach out to the company for a free estimate. If customers need a 24/7 Sliding Glass Door repair service in Ft. Lauderdale or Boca Raton or Miramar, technicians are standing by. The company specializes in sliding glass door repair and window glass repair; technicians will handle any glass replacement situation efficiently. Home or business glass repair is the company's main priority.
Express Glass Repair and Board up
http://www.expressglassfl.com/