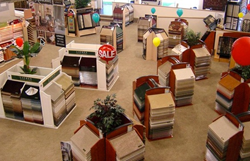 One of our flagship guarantees is the free do-over, something very few other companies offer.
San Jose, CA (PRWEB) July 02, 2014
Conklin Bros., a company that has offered top-quality flooring and customer service for well over a century, has just announced that they are offering their clients a new and industry-leading guarantee. Called the Residential Flooring Satisfaction Guarantee, it promises to replace a customer's new flooring with a comparable type and style, in the event that the home owner is not satisfied with the appearance of the new flooring after it has been installed.
Over the course of the past 134 years, the owners and employees of Conklin Bros. have learned a lot about both flooring and customers. One lesson they realized early on is that sometimes flooring that looks really great in the showroom just doesn't look quite the same once it's been installed in a home. Similar to when a shirt looks terrific on a mannequin in a store but not quite as wonderful on an actual person, Conklin Bros. realizes that this can and does happen with floor coverings.
Thanks to the new Residential Flooring Satisfaction Guarantee, hardwood, vinyl, or carpet that looked beautiful in the showroom but not great in the home will be replaced with a similar style of flooring.
As a newly posted blog on the Conklin Bros. website notes, the new guarantee joins an already-impressive lineup of guarantees that have helped to keep customers happy for over 13 decades.
"We take a lot of pride in having some of the strongest guarantees and warranties in the industry," the blog noted, adding that it's the attention to detail that Conklin Bros. brings to every job that keeps their clients coming back to them year after year and home after home—all while reflecting the attention in the lengths they're willing to go to in ensuring customer satisfaction.
"One of our flagship guarantees is the free do-over, something very few other companies offer. With this guarantee, if you're not happy with your floor covering within 30 days of the original installation, we'll redo the whole thing one time."
To get details and read more about these groundbreaking and innovative guarantees, please visit our website at http://www.conklinbros.com/guarantees/.
About Conklin Bros.:
Conklin Bros. is proud to offer a tremendous selection of carpet and flooring from all the top manufacturers for every living space, including high-end designer styles to quality, value-priced products for every budget. After 134 years of being in business, Conklin Bros. continues to be locally owned and managed. The commitment to quality, superior craftsmanship, attention to detail, is what separates Conklin Bros. from the rest. For more information, please visit http://www.conklinbros.com/.