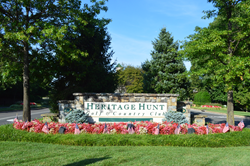 "This contract is a testament to our residential security team and their track record of service, innovation, safety and security "
Manassas, VA (PRWEB) July 27, 2015
New Horizon Security Services, Inc., a privately-owned security services firm headquartered in Manassas, VA, specializing in armed and unarmed security officers in the Mid-Atlantic region, was awarded a contract to provide security services to the Heritage Hunt Golf & Country Club in Gainesville, Virginia.
Under this contract New Horizon Security is providing advanced security services to Heritage Hunt, a 750-acre, over 55 community, boasting an 18-hole golf course and other luxury amenities. Security services include manned gate access coupled with web-based gate access to automate, expedite and empower residents and heighten overall community security response and effectiveness. Augmenting the community's luxurious ambiance, New Horizon Security officers wear a sophisticated and tailored uniform that appropriately represent the community's stature.
"I am excited to bring New Horizon Security's brand of friendly and effective security to the Heritage Hunt community," said John "J.J." Frazer, President and CEO of New Horizon Security, "This contract is a testament to our residential security team and their track record of service, innovation, safety and security."
Founded in 1998, and named to Inc. Magazine's list of the nation's Top 5000 Fastest Growing Companies four years in a row, New Horizon Security has a proven track record of providing exceptional security support government and commercial clients, including residential security. This success is attributed to an unwavering commitment to professionalism, training, innovation and a unique understanding that the best security services are provided with a smile.
About New Horizon Security Services, Inc.
New Horizon Security specializes in providing high-quality armed and unarmed security officers throughout the Mid-Atlantic region in support of local and state government agencies, private businesses, commercial and retail properties, construction sites, residential communities, education facilities, and public service buildings. New Horizon Security also operates a certified training academy to train unarmed and armed security officers for the field. This training academy is open to the public as well. New Horizon Security is headquartered in Manassas, VA with satellite branches in Richmond, Tidewater, Newport News, Roanoke, and Danville, VA. The company also has an office in Raleigh, NC. To learn more about New Horizon Security, please visit the New Horizon Security Services, Inc. website at http://www.newhorizonsecurity.com.