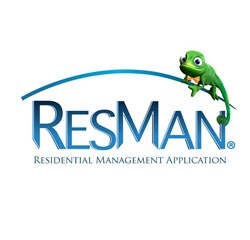 Aptexx is the first payment platform in the multifamily industry to have a 'mobile first' strategy.
Plano, Texas (PRWEB) August 08, 2013
ResMan®, a leader in cloud-based residential management software, is pleased to announce their partnership with Aptexx. Aptexx delivers the next generation of mobile payments to the multifamily industry by offering the first mSaaS (mobile Software-as-a-Service) payment platform that utilizes Responsive Web Design and HTML5 technology to empower residents to make online rental payments with credit cards, debit cards and eChecks (ACH).
In addition to mobile payments, ResMan® and Aptexx offer check scanning, cash payments by Western Union and traditional online rent payments through ResMan's Community Member's Portal. ResMan framework is browser agnostic, easy to use and allows ResMan's customers to take full advantage of automating 100% of their receivables by accepting all forms for electronic payments. Rent payments seamlessly integrate with ResMan's core accounting platform and automatically update the resident's individual ledger.
"I have spent over 17 years on the operations side of property management and used a variety of electronic payment services during that time" said Elizabeth Francisco, Chief Operation Officer of ResMan®. "Aptexx is the first payment platform in the multifamily industry to have a 'mobile first' strategy. Recent statistics show that 80% of Gen Y 'Millennials (ages 18-34) now own a smartphone. Offering mobile payments has increased participation on the assets we still manage by 6% within the first 60 days. We couldn't have picked a better partner".
"Property management companies must adopt the latest technology to help them successfully manage their assets and increase resident satisfaction, stated William Evick, Chief Executive Officer at Aptexx. "ResMan offers a simple to use SaaS based property management system and we are pleased to have them as a partner. We look forward to reinventing the status quo."," stated William Evick, Chief Executive Officer at Aptexx.
In addition to mobile rent payments, Aptexx provides automated messaging services. Messaging Anywhere™ is a fully integrated mobile messaging service that allows management companies to easily send text, email and voice messages to residents with a click of a button. Managers can automate messages for important notifications such as maintenance, community events, lease renewals, late notices and emergency alerts.
About ResMan®
ResMan®, a cloud-based residential management application, provides the core solutions required for effective property management. Receivables, payables, maintenance, resident portal and financial reporting are all provided in one complete package for one price. Developed by over 50 tenured multifamily management professionals, ResMan® has evolved over the last 13 years from a desktop application to a progressive SaaS (Software-as-a-Service) solution specifically designed for residential property managers and owners. ResMan® gives multifamily professionals and their associates the ability to make better, faster decisions and access information from virtually anywhere, anytime.
For information, visit http://www.iwantresman.com or call 855-ResMan 1 (855-737-6261)
About Aptexx
Aptexx is led by a team that has decades of experience in property management, payment processing and mobile messaging. Aptexx empowers property managers by reducing resident turnover and increasing the bottom line through integrated mobile rent payments, turn-key resident messaging, mobile maintenance and real-time emergency notifications.
For information, visit http://www.aptexx.com or call (805.636.3810)